A big shout out to Josh Kinser, the Marketing Director from Performance Plus Outdoors for taking some time to talk to me about Swagger Bipods.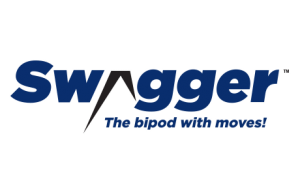 1) What prompted you to go into bipods?
When our team first saw this idea and design – the versatility was unmatched by anything in the market. We had never seen something that could adapt to adverse situations in the field. We saw the opportunity to help hunters in a way that current bipods and shooting sticks currently cannot.
2) What makes your design different?
Everything – flexibility, maneuverability, change from flexible to rigid with a click, no "bipod hop", the ability to adapt to the situation in the field as it happens and much more accessibility to a solid rest to complete the mission or fill the tag.
3) What has been the biggest challenge you've faced, getting these to market?
We make a lot of this bipod in the United States but that is a huge challenge because we get compared to products manufactured in China in both quality and price. We are labeled as a "conventional bipod" and everybody thinks, "Oh, this is just a bipod or a cheap shooting stick." We are a much higher end and versatile product than what most consumers are used to seeing.
4) For someone not familiar with your company, what would you want them to know?
Swagger Bipods is owned by Performance Plus Outdoors which also owns Big & J Long Range Attractants and The Given Right, a show hosted by Kenneth Lancaster and airing on the Pursuit Channel.
5) Whats next for Swagger?
Swagger is going to continue to be a leader of innovative products for the shooter and hunter. We are going to continue to bring more and more products and are currently working on prototypes for 2018.
6) Whats your favorite thing to hunt?
My favorite is whitetail hands down. I love hunting them in different environments and especially love to rattle down here in Texas. Outside of that I love the mountains – I've been on a couple of New Zealand tahr hunts, spike camping. I would do that every year if I could.
7) What's the big dream hunt on your bucket list?
I can't go with just one. For my mountain hunts, I really want to go after a Mid-Asian Ibex and a Dagestan Tur. For deer, high on my list is getting a coues deer in the Arizona mountains and hunting blacktails on Kodiak Island.
From their website: "Revolutionary Crazy Legs Technology gives you shooting agility and flexibility like never before, which will dramatically expand your shooting zone. Swagger replaces ordinary "stiff " bipods and shooting sticks that have to be held to stabilize, must be carried, and are heavy, noisy and limited in how they allow you to shoot. Swagger is the all-terrain bipod and can do anything the others can do, and a whole lot more!
With Swagger, you can raise up, lower down, slide left , inch right, move forward, lean back, twist or contort as the shot calls for. All thanks to flexible, hyper-extending Crazy Legs. You can shoot prone, sitting or standing without the need to hold or stabilize. And, Swagger retracts into the chassis for easy, quiet transport.
Swagger's legs retract into the chassis, where they are concealed and protected.
And when you sling your firearm over your shoulder, Swagger won't dig into it like other bipods can!"
Learn more about the bipod on their website:
Learn about the Lifetime Warranty
Finally, you can SHOP Online
Thanks again to Josh for telling my readers more about these cool bipods! ~DesertRat