You may recall that I mentioned I would be upgrading my scope in the near future.Well, my Viper HS LR from Vortex arrived, along with a set of 30mm Medium height rings.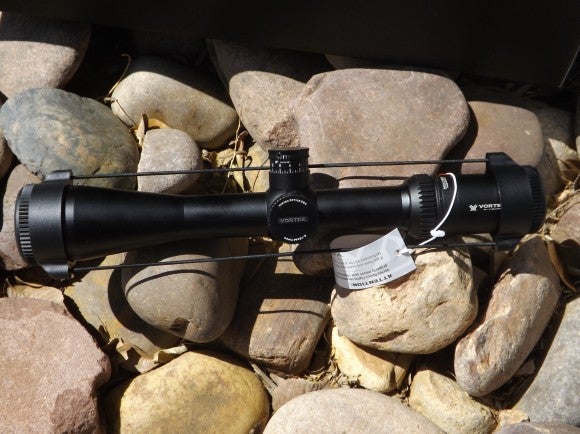 Although the Viper comes with a great turret system, I thought it would be a neat upgrade to put on a custom turret made by Kenton Industries. Kenton has a rep for making great turrets and you know they are trusted when Vortex puts up their link on all their web pages showing scope specs.
Now, this kind of tinkering is a new realm for me, so I called Mark Kenton from Kenton Industries to ask a few questions. Mark clearly knows his stuff and I thought it would be cool to profile the process, the product, and his company on Desert Rat Outdoors. Mark was gracious enough to answer a few questions leading up to the selection of a Kenton turret.
What are the advantages of a custom turret over the turrets that come with the scope? Simply laser the target distance, turn the turret to the corresponding yardage, place the crosshairs on the target and shoot.
Should customers contact you before they select a scope, or is it best to purchase what they want and then figure out the turret? As long as they are purchasing a scope which we can provide a custom turret, we can assist them on which yardage format is best for their needs
What information will you need from me to help select the best turret? Desired maximum range – for example you're looking at 600 yard. We can also use your field data, handload data, etc.
What are some of the different options available? What are the differences in turret styles? Speed dial format= larger fonts, 50yd increments up to one turn. LR hunter format= 2 tier system allows most high end cartridges to dial out to 1000yds. We also have military turrets and windage turrets.
What if a person shoots 2 different bullet weights? You can purchase a TTC knob that is calibrated for your main load and adjust the knob for the other loads. For example, your knob was calibrated for the 308-168gr. Federal Match load and you want to also shoot your 150gr. Federal NBT load. You will have to subtract a set amount of clicks from each 50/100 yd setting. A 500 yard shot for the 150 gr. NBT would be to dial the knob to 500 yds then subtract (decrease yardage) 9 clicks. You can make up a simple chart for the 150gr. load: 100 yds -2 (clicks), 200 – 3, 300 – 4, 350 – 5, 400 – 6, 450 – 7, 500 – 9, etcナ
The preferred way is to have a second knob calibrated for the 150gr. load. This way you can swap knobs accordingly. You should keep a simple log that tells you how many clicks to subtract to re-zero the scope from the 168gr. 100yd zero to the 150gr. 100yd zero. For Example: Log entry: 150gr. 100yd zero = – 2 clicks down @ 100yds. (mount 150gr. knob and set at 100yds; – 2 clicks down, loosen setscrews, reset knob to 100yds, then tighten setscrews.)
Now you are ready to dial in and shoot the 150gr. load. The process would be reversed when you want to remount your TTC calibrated for the 168gr. load. (mount 168gr. knob, set at 100yds, +2 clicks up, loosen setscrews, reset knob to 100yds, then tighted setscrews)
I have a .270 WSM – I'd like to be comfortable out to 600 yards. The scope I just purchased was a Vortex Viper HS LR 4-16×44 I have medium rings for it (30mm). What do you recommend? Choose our speed dial yardage format. large 50yd markings, one turn
My 2 best bullets are 130 Grain Sciroccos and 140 Grain Swift A Frames Two turrets most likely needed for 600yd target engagement, but you can get away with one custom turret if willing to do slight adjustments for the other bullet.
So now I'm ready to call Mark up again and order the turret. Stay tuned and I'll describe the installation process. Installation is something that is supposed to be so easy that even I can do it. Stay tuned!