Thanks to Chris from Sanford Innovations for taking the time to answer some questions. Sanford Innovations makes a great fixed head, a great mechanical and finally – a really innovative piece of gear, the Missile.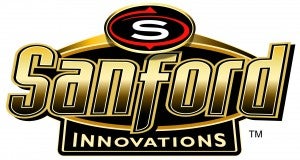 1. How long has Sanford Innovations been making broadheads?
I have been building my own prototypes and developing broadheads for over 14 years now and have always enjoyed archery so much and especially the broadheads since they put on the finishing touch to a hunt and to me are
almost the most important part of equipment.
2. There are a ton of broadheads out there – what prompted you to develop your own?
I just saw some areas that really could be improved. I am such an avid and anal bowhunter, and I know how tough and critical it is to get so close to some trophy animals and the last thing I wanted to happen to me or other
bowhunters is to have my broadhead fail, so I developed broadheads that I believe are the strongest, and most accurate, and lethal heads on the market.
3. Anyone going into business knows there will be challenges along the way – what has been the biggest surprise?
The manufacturing was more difficult than I anticipated because I require my broadheads to be within a couple thousandths tolerance which is basically the width or size of a human hair and to weigh 100 grains and keep the
upmost strength for any bone crushing hit along with the best aerodynamics. It was so difficult to get all of this in one broadhead without compromising anything. I never took the easy route and unfortunately this caused some of
my products to take longer to get on the market than initially anticipated, but I had to make sure they met our specifications.
4. Which product leads sales? Your fixed or mechanical broadhead?
I think our mechanical (the ExpanDead) is starting to take the lead because it is more innovative and I think a lot of people like mechanicals that can give a huge cutting diameter and still fly with any speed of bow or crossbows. So many people are moving to the faster bows and crossbows and a lot of the broadheads on the market will not work under these new speeds, so our mechanical fits these needs. However, we still have a lot of customers that prefer the BloodShot because they love the fixed head and still get the great flight due to our low profile design.
5. The Missile is a really cool product. What was the inspiration?

I do not like styrofoam carrying cases because they take the edge off the broadheads so fast and we spend a lot of money making the blades razor sharp, so I developed the Missile to hold your broadhead in a base with a cover that screws over the broadhead and will never touch the edges of the blades…keeping it razor sharp no matter what. With the Missile, you can carry an extra broadhead in your pack or pocket and never cut yourself or hurt the broadhead even if you throw it at the wall or drop it or anything. The Missile container also has a broadhead wrench built into the top and the base. Another real cool feature is the sharpening stone on the bottom of the container which everyone can use when they are out in the field. I use mine a lot for touching up my knife when I gut and skin an animal out in the field and you can touch up any broadhead blades as well. With the Missile, you get a broadhead carrier, wrench, and a sharpener all-in-one and it is super compact and will even fit in your front pocket.
6. What is your favorite thing to hunt?
I was lucky enough to draw a sheep tag in my home state of Montana and I have to say that was one of my best hunts ever, but I also thoroughly enjoy to bowhunt antelope because you can hunt them all day long and my family and I love the meat.
7. What is the dream hunt you haven't been on yet?
I have always wanted to bowhunt an Alaskan Brown Bear because they are such an impressive predator and I think it would be one of the ultimate adventures to bring down such a large and impressive animal with a bow.
8. For readers that have never heard of your products or company, what would you like to tell them?
I am an avid bowhunter first and our products are built for hunting and the business comes second, so I hope they try our products and see for themselves how much engineering and innovation have gone into our product lines. I also hope they all have a great hunting season.
Look for future reviews on products from Sanford Innovations. You can learn more about their technology here: VIDEO. Thanks again to Chris – he and I will surely stay in touch so my readers can follow along and watch the success of Sanford Innovations! ~DesertRat