First of a Three Part Series
This is the first of a three part series on making the "pot" portion of your own turkey friction call.   There will be another series on making the striker.
Terminology
First off, I don't like the name "friction call".  Box calls, scratch boxes and pots and strikers (what I am making here), among others, are all friction calls.  Similarly, "slates" don't cover it all either.  There are crystal, glass, aluminum, copper, slate and other surfaces available.  Here I'll refer to them as "pots and strikers".
Secrecy
I think it is illegal to share these instructions in several southeastern states, so please keep the contents of the following to yourself.
Safety
Be sure to follow all eye, ear, and body part control safety precautions when working in the shop.
Tools
Following is a list of tools I use.  You will have to decide what is right for you.
Tablesaw – ripping blanks

Mitre saw  – crosscutting blanks

Bandsaw – cutting blanks round

Compass  – marking blank sizes

Drill press – center holes, sound holes, pedestal holes

Lathe – turning pots

Screw chuck – mounting pots

3/8" detail gouge – turning pots

¼" bowl gouge – turning pots

1/8" parting tool – turning pots

Drill bits – center holes

Forstner bits – sound holes, pedestal holes

Caliper – fine measuring

Ruler – rough measuring

Sandpaper – smoothing out the pots

Spring clamps – holding pots for finishing

Empty soup cans – holding pots for finishing

Full soup cans – "weights" for clamping
In the interest of brevity the following is a little short on detail. Ask if you have questions – I have no secrets. The instructions would be the same whether one used glass, crystal, slate, aluminum, or whatever surface one wanted.
1) I cut the blanks out on the bandsaw.
2) I drill out the center using a drill bit that fits the rod size of my screw chuck. There are three chucks pictured here – on the left is a homemade screw chuck fabricated from a 1″ x 8 nut, waste block, and #10 screw inserted; next is a standard face plate with waste block attached and #10 screw inserted; and on the right is a screw chuck available from Penn State Industries with a #14 screw. I use the PSI chuck exclusively.
3)  I've mounted the chuck and blank on the lathe and trued the diameter with a 3/8″ detail gouge or 1/4″ bowl gouge. 
4) I trued the face, marked out 1 3/4″ from the center to the outside and then turned on the lathe to transfer that mark all the way around.
5)  I compare the surface to be used against the ring for size.  Often, each type of surface will be slightly different in size.  Adjust accordingly.  Tip – use masking tape to form a handle for your surface.  That'll keep you from dropping and breaking it.
6)  I'm using a 1/8″ parting tool to cut in on the line and establish the striking surface shelf.  I have also used a 1/4″ bowl gouge to get a little of that center out so I can try the striking surface in the recess.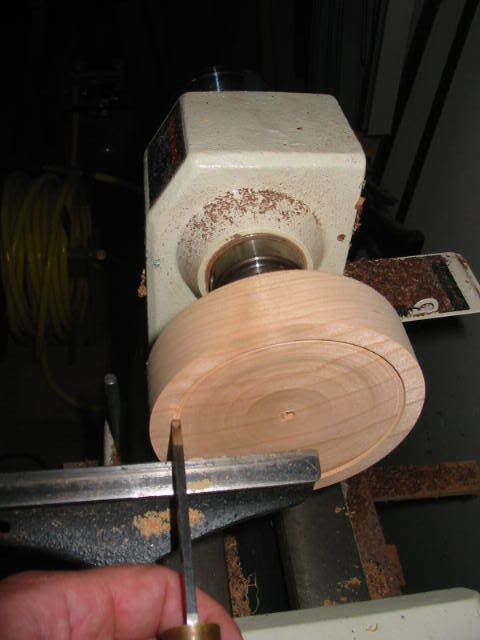 7)  The bowl gouge removing more of the center.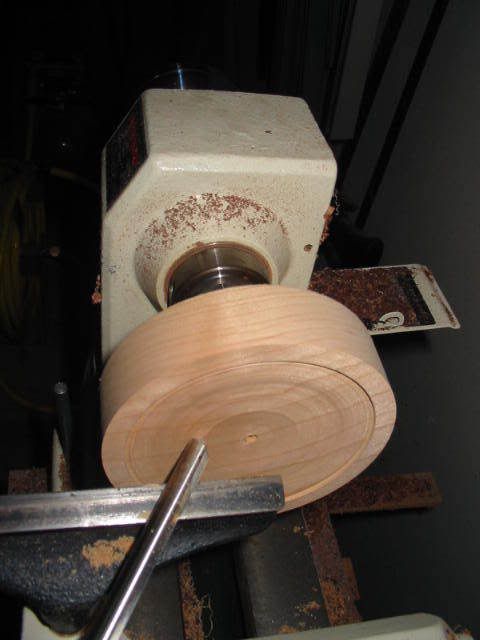 Conclusion
That completes the first episode.
happy hunting, dv
Note:  I used to share the dimensions of the calls in return for a picture of a maker's first call; a little pay back for my development efforts.  However, too many dishonest people have failed to keep their end of the bargain so I no longer share the dimensions.
If you liked this blog you may like the following: 
Feedback, Questions & Comments
I'd like to hear your tips, feedback, comments or questions.  Please leave them below.
Subscribe 
Like this blog? Want to be notified of updates? Subscribe via RSS feed by clicking here.
 Subscribe in a reader
Follow on FaceBook