The Bowfishing Boat – A Different Option
We'd all like to have a 16-22 twenty foot fan boat set up for bowfishing, but that isn't always possible on everyday budgets.  My friends Michael and Mike Adams from the Up North Journal recently did an outstanding job setting up their boat, the Fowl Mouth Two, for a weekend of fish shootin' here in Wisconsin.  Although Michael already did a blog on it over at Hooks and Bullets I wanted to share this with Mostly Archery readers. 
In my opinion there are three key components of a decent bowfishing boat; a platform big enough to stand on and shoot from, a lighting system (including power) and a trolling motor.  To address these requirements they started with their already existing, basic 14 ' V-hull aluminum boat with a 51″ beam.  Bowfishing buddy Seth and I were concerned about the draft of a V-hull boat limiting how well it could navigate shallow water.  I can assure you it was not a problem.  I was being ultra conservative when driving, but Michael took us into water so shallow that the trolling motor had to be raised. 
Using 3/4″ Oriented Strand Board, or OSB, and 2 x 4s they cut and fit a shooting platform into the forward portion of the boat wisely leaving storage under it.  Mike, an avid fisherman, notes that the platform makes a nice casting deck and also says that he may add a bass casting seat to it.  They are considering installing a hinged addition to the platform which will extend to the rear of the second seat creating even more shooting space up front and further storage.  The entire platform can be easily removed if not wanted/needed.  The addition of some indoor/outdoor carpet or non-skid paint will help with traction and protect it from wet weather. 
The shooting deck.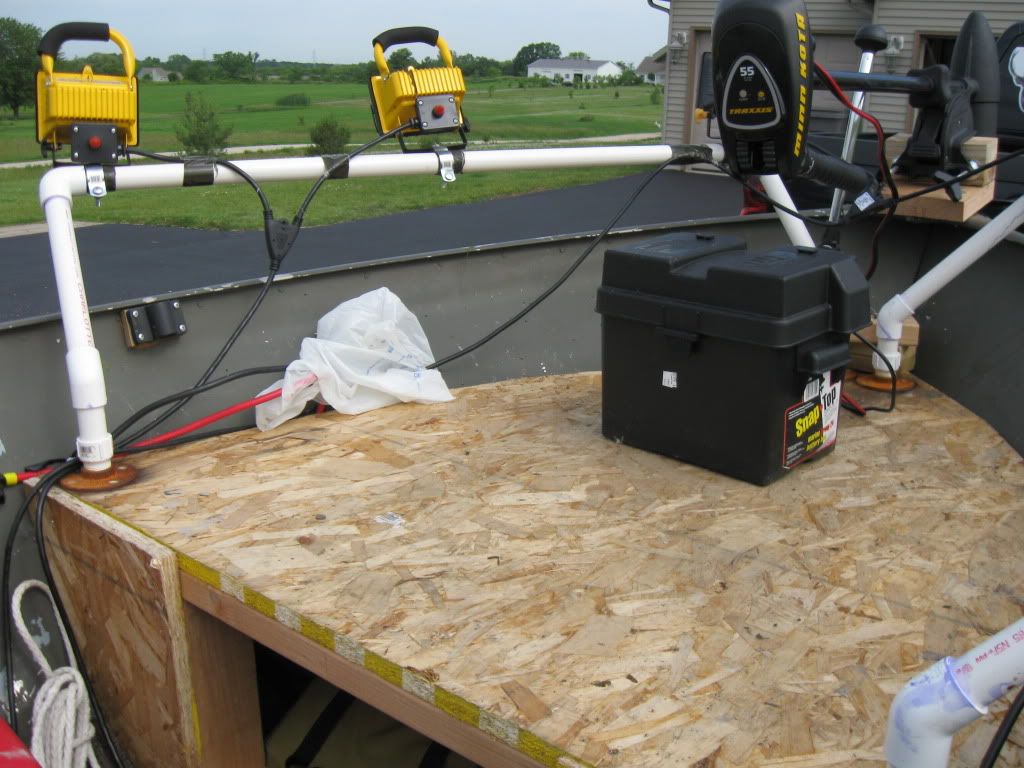 Having shot from the platform I can tell you that it is stable and safe to shoot from.  It will accommodate one shooter comfortably, but Michael and I both fit while shooting at some rascally gar and doing some underway mechanics.  Near the end we started shooting in tandem; he from the front of the boat and I from the rear standing on the boat's normal deck.  This actually worked quite well and allowed me to back him up on shots he either missed or couldn't get into position for. 
Addressing the need for lights is where Michael's genius really came through.  He attached mounts to the newly installed shooting deck and then formed PVC into a railing system for affixing the lights.  They added six 250 watt halogen work lights to the rail utilizing conduit clamps and ran the cords aft toward the expected location of the generator.  There is something going on with how the lights performed on the water that I can't put my finger on.  Intensity seems sufficient, but I was often unable to see fish until it was too late to shoot.  I did experiment with angles and they seemed to perform better when angled further out than I am used to.  I'll be posting some pictures on Bowfishing Country USA and asking for feedback to satisfy my curiosity.    
The light rail.
A detail of the light bracket.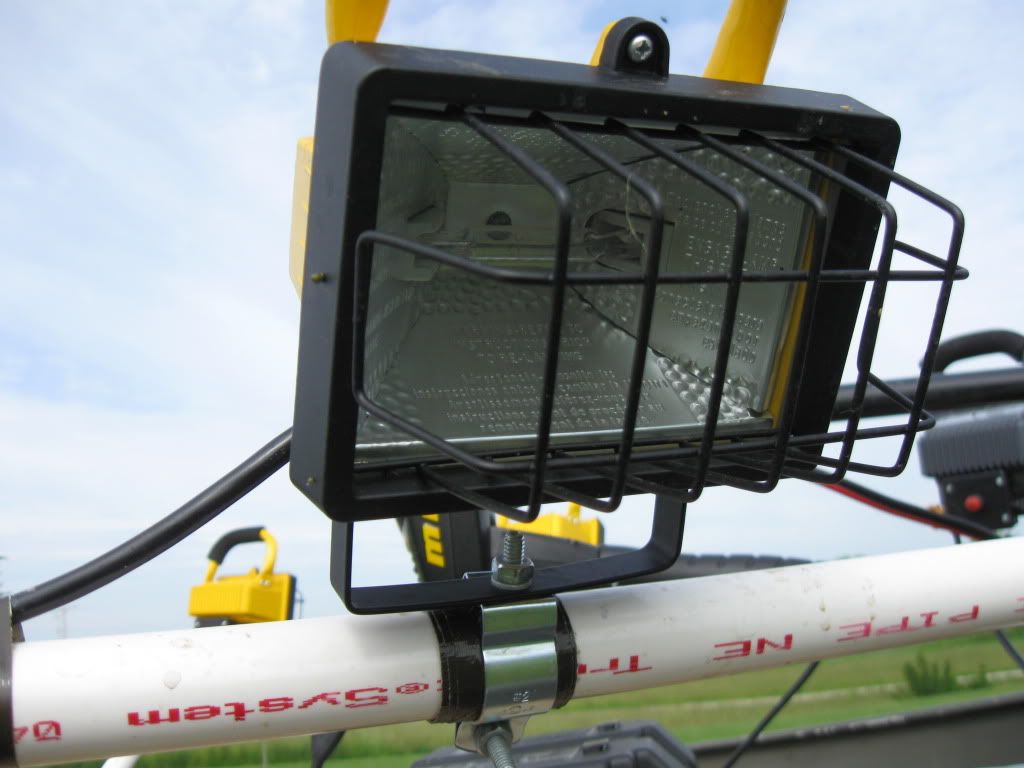 Here in Wisconsin we shoot a lot of lakes into the wee morning hours where houses are crowded along the shores.  Lake homeowners do not appreciate (nor would I) loud generators and will call the police to report a noise disturbance.  My buddy Seth uses a 3000 watt Honda rated at 49-58 decibels.  Michael and Mike borrowed a similar Honda generator from family rated at 53-59 decibels.  Both work well and we had no problems.
A quiet generator. 
Finally, they added a 55 pound thrust trolling motor.  Originally mounted on the stern this thing would scoot that boat right across the lake.  However, for bowfishing the optimum location for a troller is in the bow so that a shooter or shooters can control it.  Seth, Michael, Mike and I spent a couple of hours working out a solution to the problem.  First, we removed the control handle and rotated it 180 degrees on the shaft.  Then, we began fabricating a mount.  After one failed attempt on the port, forward side of the hull we looked toward the "pointy end". 
With a little woodworking, lots of teamwork and no bad words we got it worked out.  You can see the result in the picture below.  Depending on the weight in the bow the entire trolling motor wasn't necessarily submerged even with the shaft fully extended.  However, it was quite stable and performed well.  We originally wired the battery to the back of the boat, but a difference in battery posts caused us to move it all the way forward.  It worked well in that location, helped to add a little weight in the front and was very convenient.  The forward navigation light was operable, but isn't quite set yet.  Michael is going to work on that.   
Trolling motor mount.
This is a very worthwhile project for anyone who wants to get into bowfishing at low cost.  In lake trials the Fowl Mouth Two performed well.  Both Michael and I took fish.  What more could you ask for? 
Insert a couple of fish taken from the boat.
You can download the Up North Journal podcast, Episode 112, where they discuss setting up the boat here and Episode 114, where they discuss their Wisconsin Bowfishing Adventure here.
happy bowfishing, dv
If you liked this blog you may like the following:
Feedback, Questions & Comments
I'd like to hear your tips, feedback, comments or questions.  Please leave them below.  
Subscribe
Like this blog? Want to be notified of updates? Subscribe via RSS feed by clicking here.