Alright, our Colorado elk hunt will be over by the time this posts, but before I get into a blow-by-blow recounting of the hunt's events, I thought that letting my readers peak over my shoulder while I read some maps might be a worthwhile post. I talk a lot about how we try to go the extra mile or climb the extra elevation to find quality spots that are full of game and empty of humans, but I don't think I've ever gotten into true specifics. Here's 5 things that always catch my eye. After further investigation, I might dismiss it for one reason or another, but my eyes are usually scanning for one of these 5 characteristic locations.
Unmarked Water
Looking at topographical maps is hard enough, but scanning endless aerials can be downright mind-numbing. One of the gold mines that can be found through this monotonous task is discovering hidden water sources. Find a water source that is unmarked on the corresponding topographical maps, isolated from easy access, and providing the only drinking/wallowing hole around, and you could be in business.
Avalanche chutes
This is another feature that can be easier to find with aerial maps. Not so much in SW Colorado where we hunt (though we have found local bulls using isolated chutes as the focus of their daylight activities), but in heavily timbered regions such as NW Montana – keying in on these near vertical strips of habitat can be dynamite. Dark timber provides great cover for game, but rarely provides what is needed in terms of food. Sunlight must reach the forest floor to produce good quality vegetation and avalanche chutes might be the most abundant source of canopy gaps. Just like a good water source, scour your maps for an isolated chute or two in the middle of large tracts of dark timber and you can bet most of the local critters are keying on this area for their groceries.
Benches
These are everywhere when you look at a topo map, but the key is in finding a bench that is a pain for hunters to get to. If you can combine a bench with another attractive feature for elk – a waterhole or a meadow – that's even better. We seem to find that 750′ above the nearest trail or 1 mile from the nearest established trail are both good rules of thumb for escaping 99% of other hunters. Planning a route where you can contact 4 or 5 benches a day is an excellent way to cover ground quickly while trying to locate a cooperative herd of elk. This strategy has worked for us several times and incorporating benches into our hunts is standard procedure.
Hanging Basins
These 4 shaded areas are all what I would call hanging basins. Flatter spots near the ridgeline that are a good ways off trail, absolute nightmares to access from below, and are at the dark timber/timberline juncture. Classic high country hunting and these types of spots were the focus of our efforts during this most recent elk hunting trip which just concluded a couple days ago. Oftentimes, these basins will connect with each other through an intricate network of trails that run parallel to the ridges on flatter benches and criss-cross ridges through saddles.
Saddles
I ended the last paragraph with saddles and I'll allow them to stand on their own as an individual map feature too, they are that important. Oftentimes, it's one of the easier things to identify on the map, but one of the most difficult things to piece together in your mind when you have an elk herd feeding in one area, bedding in another, and using one of several trails to conduct their daily movements. There are a few bulls from the 2012 trip that would have been in deep trouble had we been able to figure out the puzzles in time. The more dramatic the surrounding elevation and the more pronounced the actual saddle the better location it will make to get elk within bow range. Sometimes you can even zoom in on aerial maps to check for centuries old game trails cut deep into the soil.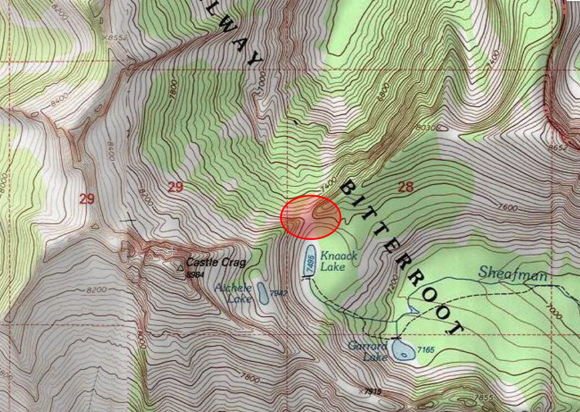 For veteran mountain hunters, I'm guessing you've learned nothing new, but tackling the task of reading maps in advance of an elk hunt can be an intimidating task to say the least. The jury is still out whether or not we were able to find elk (or kill elk!?!?!!) in any of these spots over the past 10 days. For the coming 3 or so weeks, stay tuned as the story of our Pete and I's 2014 Colorado elk adventure unfolds.