With a great night's sleep under our belts, we drove off the mountain and circled around to a bend in the highway where we planned to bushwhack into a high country basin that would open our self-coined "Ultimate Loop". With 10 days supply of food and supplies, our plan was to encircle a couple prime basins that we've had tremendous success in before – nearly 45 miles marked on Google Earth. We were going to hit all the "unreachable basins" along the way, stockpile a dead elk or two, hike out when all tags were filled, then start the process of guiding hired mules in to our waiting meat caches. That was the plan.
The sun illuminated our next "hunt of a lifetime", we pushed further up into the basin. We were hopeful that the steep terrain, abundant deadfall, and lack of any obvious human/horse trails would up our odds of finding elk close to the road.
As elk sign grew in abundance and freshness, we slowed to throw some bugles and cow calls up into the surrounding country but with no response.
At around 1,500 vertical feet into our ascent, we finally reached the bench where we supposed elk would be most likely to bed. Taking our time to get the thermals in our favor, we swung up, around, and onto the bench to set up and give some enticing calls. We found a NICE bull elk that had died during the previous month or so, but that didn't deter us. We were interested in the live elk that we hoped inhabited this rugged basin.
After 5 minutes of calling and no responses, we decided to slip further along the bench employing a stop-and-go strategy. Mistake…should have waited 10 minutes. At the very next bend in the terrain, we were almost freight-trained by a couple cows and medium-sized 5×5 bull elk homing in on our setup. It was definitely frustrating to misfire on our first encounter of the trip, but getting into elk just 2 hours into a 10-day hunt had our confidence skyrocketing.
Within an hour, we decided to trek up through the remainder of the basin and conquer the last 1,100 vertical feet before midday temperatures made hiking too hot. On our way, we got sidetracked by a north-facing slope full of ripe currants.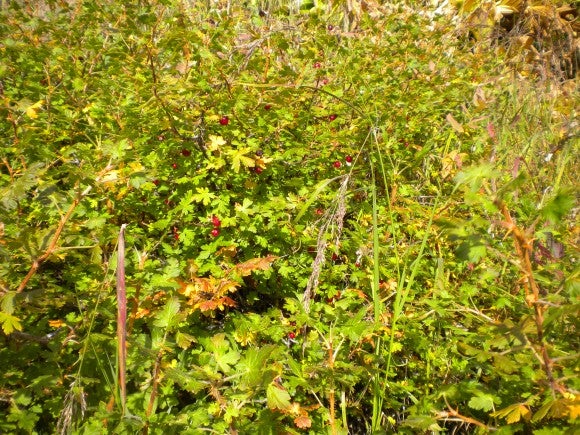 This last picture bears an explanation. While scarfing down currants, we watched a cow elk pick her way up through the boulder strewn hillside and bed down in the patch of timber cliffed in in the background.
You can actually see her butt in the lower right in this picture. Whether it was the oozing confidence in our 10 more days or if neither or us were all that excited about punching our tag on morning 1 on a cow, we bypassed what would have been an almost certain shot opportunity. There was ZERO way out of that timber patch except by coming back down the exact trail she had used going up. It was an archery elk hunting slam dunk if there ever was such a thing. Oh well, hiking onwards and upwards.
Before exiting that basin, Pete got a glimpse of 9 bighorn ewes and lambs in the scree-littered high country. It was a heck of a hike for our first morning, but I was feeling no ill-effects of altitude sickness – very thankful for the sleep acclimatization at high elevation!
The midday consisted of ridge-running some mountain tops in search of a safe route of descent into another secluded and rugged basin that held tons of promise. I won't say that we ever found a safe way down in the basin, we found a way. Probably the steepest descent I've made to-date and on small boulders that were shifty and quite frankly scary.
It was so steep it was dizzying at times and I took quite a while to pick my way down the rockslide. Amazing how innocent something can look on Google Earth, terrifying in reality!
Within 30 minutes of reaching "flat" ground, we were greeted with our first dose of precipitation. An angry thunderstorm rolled through from the southwest and we each took shelter in our tents for a couple hours. Great excuse to take a nap! At one point, Pete poked his head out to glimpse a few cow elk beating a retreat to a patch of live timber for shelter.
Around 5 PM, the weather cleared off, we had spectacular and inviting country below us, and hopes were high. It didn't take long to locate a bugling elk, but he never gave off more than a half-dozen half-hearted bugles. Possibly calling from his bed, he never fired up and worked our calls even though we setup on him for a half hour or so.
We peeled off quite a few more steps before dark – running into a band of 4 mature bighorn rams and going to sleep while watching/listening to a really nice herd bull corralling his harem almost 1,500 vertical feet below us in an avalanche chute cross-canyon. It was a great way to end the day and hopes were high that in the morning he would still be in the area. We had plans to interrupt his party!