Have you ever been belly crawling through sagebrush towards that classic western 4 by 4 mule deer only to be waken by your wife turning over in the bed? If you think a hunting trip out West is out of your price range or too complicated to plan by yourself, think again? I promise you can afford it with a few small sacrifices spread out over the year. Trust me, if I can afford to hunt out West, anybody can. I'm a graduate student who makes well below poverty level wages.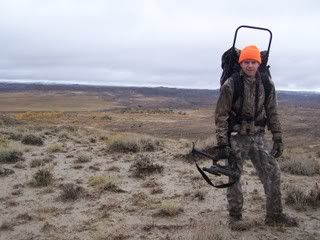 Plan ahead, plan everything – Hunting out west requires that you plan far in advance simply by virtue of having to draw your tag by applying in winter or early spring lotteries. I elected to hunt Wyoming for my first big DIY undertaking. I also chose Wyoming because it is a great place to tag a pronghorn and a mule deer. Secondly, plan EVERYTHING ahead. Hotels fill up in small western towns quick prior to hunting season, know where several deer processors are in the area (they fill their freezers to capacity quick and having several back-ups is necessary), decide if you want to fly and rent a car or drive from your hometown and back. The list goes on.
Give yourself enough time. Once you've made the investment to take the trip, don't cheat yourself and only plan a 5 day round trip. Andrew (my roommate who had never been out West) and I took 10 days to make the trip. We drove from Raleigh, NC all the way to Sheridan, WY. 6 days of hunting were just enough to fill our tags without feeling that we were rushed. Granted we hunted the second week of hunting season and critters were obviously on red-hot alert, but you need the time cushion especially if you are looking for quality animals or hunting public land.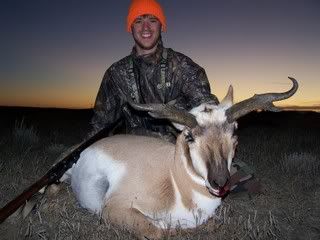 The deadline for Wyoming tag application deer/antelope is March 15. A mule deer and pronghorn tag will cost you about $500 combined. Make sure you apply for zones that are either overlapping for the species or within a short distance. Know what your draw odds are and call the Sheridan or Gillette game biologist to get an idea of how much public land is in the area. You can also obtain a list of landowner phone numbers from county chamber's of commerce. These are people who allow you access to their land for a nominal (in comparison to a guided hunt fee) price. For mule deer, call landowners as soon in advance as possible because slots fill up fast. You can expect to spend from $100-$1000 for a mule deer. Don't waste your money here. If you can get out hunting during the first week, you stand a great chance to tag a decent mulie buck on public land. Our strategy was to hike small parcels of public land having land features that blocked locals from road hunting. In other words, you had to get out of the truck to see what only a square mile of land had to offer. This paid off big, as we were on multiple bucks every day while locals were complaining all the bucks had already been pushed onto private land well into the second week. Now, Andrew had the lone mule deer tag (I didn't draw mine) and he did kill his on private land. But we could've punched 6 or 8 tags on public land if we had them. Pick up detailed topo maps of your hunt areas at this website.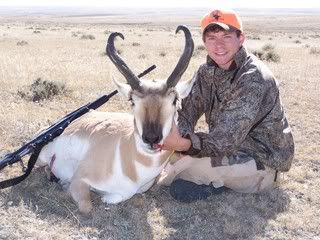 For pronghorn, I recommend (especially if you can't make the trip until second week) lining up some private land from the landowner's list. It might have just been our experience, but antelope were mighty scarce on public land in between Gillette and Sheridan. We heard that from other hunters in the area too. Fortunately, we had made arrangements with a 40,000 acre landowner 45 miles south of Gillette, and he had antelope….1000's of them. There is two approaches to private land antelope. #1 – pay $275-$400 to hunt on a ranch with little pressure and bigger speed goats or #2 – pay as little as $75 and kill a 10-11″ goat. We took the first approach and it paid off handsomely. Even though the majority of his hunters had already came and hunted, he still had 3 remaining pastures that hadn't seen a rifle that season. Hunting was fantastic. Easily saw 600 antelope in 2 days. Probably more.
Fly and rent a car OR drive? I would have to recommend driving all the way. 2 of us took turns driving for 33 hours and made it out in 2.5 days and back in the same. That didn't affect us being tired during hunt either. Benefits: your gear will 100% be there when you're ready to start hunting, familiar with the vehicle, no hassle getting meat and trophies and guns through the airport. Cons: if you break down it's your problem, takes additional time to drive. Financially, we put $1000 of gasoline through the truck in 10 days, but we still came out $500 ahead of buying plane tickets and renting a 4WD vehicle.
Book your hotels for the road trip out and back before you go. Having an itinerary will help motivate you to push your driving to the limit and keep you on schedule. We never spent over $50/night for a hotel and stayed in Days Inn, Red Roof, or Super 8's the whole time – no roach motels. Take the time to find the lowest rates.
Tips: pack a shotgun – small game hunting is phenomenal – 19 rabbits in 2 hours
Take a top quality pack frame backpack. They are way easier to carry long distances (8-10 mile hikes) and provide an awesome shooting rest.
GPS – necessity, 30 draws into a hike and everything starts to look the same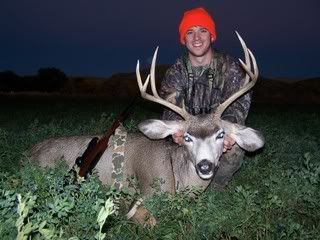 Don't be afraid to make some noise in seemingly gameless public land. Partner up and send one guy through some buckbrush in the bottom of ravines, keep one guy high and on the lookout. Produced multiple buck sightings for us where we couldn't glass up anything at all.
Have an up-to-date hunter's safety card. You will get checked….at least once!
Be confident at long ranges. We killed our critters at 307 yards, 296, and 276 yards. Not easy pokes for eastern US hunters.
I could go on and on, but I'll leave it at that. If you think this hunt may be for you, drop me an email at outdoorsmorgasbord@yahoo.com or leave me a comment and I can get you specific hunt information. Hope you enjoyed the pictures as well, I can't wait to go back myself!