1,800 miles later, I'm back in the office.  Very long and exhausting 5 days, but 100% worth every minute.
Left the office at 5 p.m. on Wednesday afternoon to pick up Kara from work and we headed east to North Carolina.  Factoring in the time change, we hit the pillows at a little over 2 a.m, but not before a good omen???  They say "third time's a charm" and I definitely saw an albino deer for the third time in my life on a country road leading to my parent's house in Alamance County.
The alarm clock rang early and it was gear collection time.  By 8:00 a.m., we had driven across the county to meet the other members of this year's shed hunting team and we were on our way to the Eastern Shore.
After an hour of cleaning up our living quarters (a story in and of itself), we hit the woods.
Not 5 steps inside the woods, I strike first…and second…and third…  Within the first 250 yards, I scraped up 3 old sheds.  One was a heavy, palmated 5 point shed.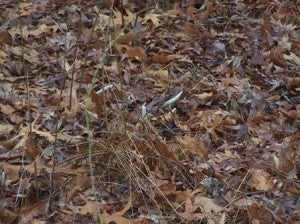 White antler tips on wet leaves GLOW!
It was time for the other guys to have some fun.  Danny picked up an old shed and a dead spike, before spying an 8 point set laying 10 feet apart.  90″ range, but fresh and we are off to a great start.
By the time we had reached the dried pond bed that we were walking for, I had snagged another old shed and this fresh 3 point.
Dad came around the corner and found a fresh 4 point, and Allan kicked off his findings with the nicest shed so far… a 50-55″ fresh 4 point side.
We picked up a few more small, but fresh sheds out of crop fields on the walk back to the truck before driving back to a pine clearcut.  We got skunked in there, but picked up a fresh 4 point side out of a cornfield and my smallest shed ever (2.5″ spike) out of cut beans before darkness fell.
When we were leaving, about 70 deer (all antlerless, grin!) were pouring into the fields.  I think we might be coming back here tomorrow.
Before we could get back to the house, another cool experience.  We were glassing 5 or 6 six deer in the fading light when one stepped out from behind the other and revealed 3 big blobs of white on its fur – piebald.  After staring at its hide for 30 seconds, someone else noticed it was still packing a 3 point side that stretched a little beyond its eartips.  Should be a very unique trophy in 2009!
Day #1 ended with 14 sheds in the bag and a little spike skull.
Check back tomorrow for Day #2.