Thanks for waiting for me, I was chasing deer around all day yesterday with a dart gun, so I wasn't able to push the second day of our shed hunting adventure through onto the blog.  But here we go…
Ambitions were high to greet sunrise with antlers already in hand.  Wishful thinking…  Breakfast was served by 8:30 a.m. (good job dad on the sausage, eggs, and onions) and it was off to the woods.
First stop was a small clearcut bordering a cut corn field, early successional quail area, and pond.  Last year, we literally jogged through this area for about 15 minutes and snagged 4 or 5 antlers.  Not the case this year.  We only managed 2 dink skulls and a fresh 3 point side (20″ main beam).
Dad did pull a good prank though.  He had smuggled a shed from years past into his jacket and only 10 yards from the truck threw it in the trail.  He let Danny think for 2 whole hours that he had picked up a freshie just steps from the beginning of the day.
After a lunch of deer bologna, cheese, and crackers, it was time to get serious.  We headed to the Chesapeake Bay and started brush busting around the thick cane on the shoreline.  Some serious trails to say the least.
Dad and Allan took one side and only found 1 old antler.  In the meantime, I picked up my first ever side-by-side set.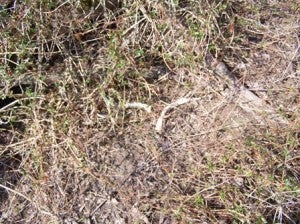 Picture didn't turn out quite as good as I hoped, but you can see enough to know that size was a little lacking in this matched set.
100 yards later and Danny started doing a little dance by the water's edge.  PIG! Forked G2 shed with mass to die for.
ATL
In-hand
Before we got picked up by the truck, I ran across a buck (a trend that would continue) with tremendous potential.  I didn't take a picture, but the buck was a yearling that would have been a stud in a couple years if he maintained his shape.
With the ball starting to roll, it was time to check for the match to Allan's first shed on day #1.  We combed the little patch of brush to no avail, but dad stumbled on another buck (this is the trend I was talking about) that pushed 120″ with an awesome kicker coming off the base.  It was a stinky ordeal getting the antlers, but we finally succeeded.
With 5 hours of daylight left, we decided to throw all our eggs in one basket…head for where the oodles of deer were out feeding on the evening before.  Good decision…
It was a little tough to get dad to watch the ground with the big deer sign that littered the woods, but he got things rolling with a trio of antlers.  An oldie 3 point, an oldie 4 point, then the largest cowhorn I've ever seen.  It had 4″ circumferences all the way out and about a 13″ beam.  I hate the term, but yes…CULL BUCK!  In the meantime, Allan had picked up 3 more oldies along a stream.
Now the young guns are hurting for an antler.  Then bam, bam, bam, I'm carrying 3 before I could blink.  In order…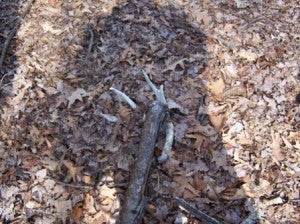 I thought this was a match to a buck that I picked up a side in 2007 (see below picture) and another guy has his 2006 matched set.  Unfortunately, this was a smaller side from the same buck from 2005.  Not the match I was hoping for, but still a great antler with G2 splittage.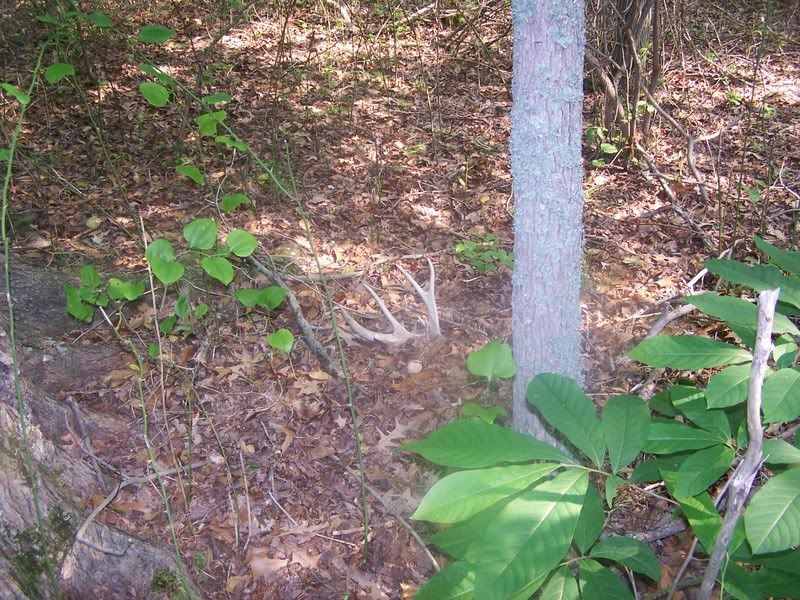 #2 was rescued from its watery grave.
Third in rapid succession.
Now, we were officially on fire again.
It got so good that dad was kicking sheds off of dead bucks… no kidding.  A dead buck had one antler missing, so dad gave the other a little kick and presto…shed antler!
By the time we hit the road, it was time for a break and some strategizing.  Decision was made to hit the big woods and we were off again.  Paydirt.  I pick up a 130″ dead 8 point.  Paydirt.  Allan picks up a 130″ 11 point. Paydirt. Allan picks up a ridiculously high-racked 6 point. Paydirt. Danny picks up a stud 7 point near P&Y caliber. Paydirt. Paydirt. Paydirt.
From sheds to dead bucks, our final walk of the 2009 shed hunting adventure produced bigtime.  I picked up my biggest freshie of the trip, a 4 pt. side with 10″ G2.  Allan picked up 3 within 3 minutes.  Put it this way, at the turn around point we dropped what we had near an interior road so we could pick it up on the back through so we could fill our hands again.
Tune in tomorrow for the final round-up to see our cumulated haul and morgue count.