Well, before we get to the totals.  Here is a close-up of two of the skulls we picked up on the final hike of our shed hunting trip.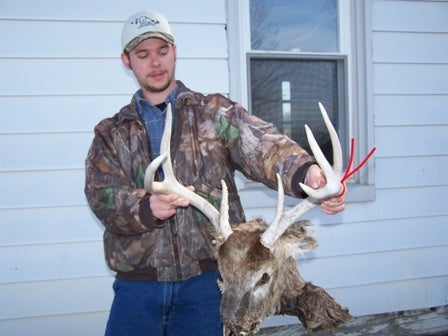 Danny's big 7.
Allan's 11 (adding the broken brow).
But here is what you've been waiting for.  The group shot at trip's end.  Remember I set 40 as a reasonable goal for sheds picked up.  Well, we broke through for the goal + 3.  43 sheds made the trip home to North Carolina and Alabama.  In addition to the sheds, we collected 12 sets of antlers off of dead bucks. 
Pretty outstanding numbers if you consider we shed hunted 14 hours over the course of 1 1/2 days.  Legs were sore and thighs were scratched (I'll buy a pair of briar pants one of these days), but the trip was a great time spent with my dad and 2 great friends.  We keep raising the bar every year, so only another 12 months to see if 2010 can upgrade the numbers a fourth year in a row.