Shed hunting is certainly a whole lot tougher this time of year than it was 2 months ago, but if you can get over your fear of snakes, ticks, chiggers, and whatever else might ail you, there are usually still antlers to find.
Try to concentrate on areas of your property that have year-round canopy.  Why is this important?  Year-round shade will discourage undergrowth from forming, and these areas are often the only places where you can see the ground once spring has officially sprung.  Examples would be blocks of planted pines (15-20 years old), holly thickets, under a dense thicket of cedars.
I went out yesterday for a couple of hours at the study site and managed to grab up three.  None of them were fresh, but an antler is an antler – especially in the middle of May.
#1
Close-up
Half of a 90″ 8 pointer.
#2
Just barely left of dead center.  This one was a pretty nice antler.  Probably more like a 120-125″ 8 point.
#3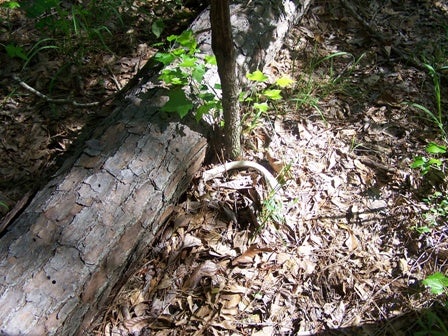 Very chewed-up antler tucked in beside this fallen pine tree.