I don't turn up something worth revisiting every time I go out for a scouting walk-about. That was certainly true this past weekend. Everything that looked decent on a map was covered in boot tracks, trash and litter, or treestands – sometimes all three in one!! Not that there wasn't any deer sign, because there was, but there was nothing worth investing my time in hunting it this upcoming fall.
Though my most recent scouting outing was unproductive, I have stumbled across a few interesting things in past weeks – mainly as I've been out in eastern Ohio traversing some of the rights-of-way research plots I have established.
Pretty amazing what a little sugar sap will attract, even in 45 degree weather! This recently cut maple stump was crawling with flies and honeybees during the last week of March.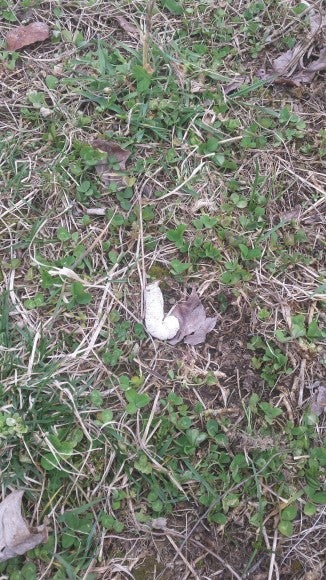 Poop! J-shaped turkey scat – classic shape and chalky coloration was worth the picture.
Road Shed!! 4th time in my life that I've spotted an antler from the truck window from a public road. I had just seen a forum post a couple days earlier where someone remarked on the unique "radial crown" geometry of antlers – a shape rarely found in nature. On a brushy hillside in eastern Ohio, a bleached "radial crown" jumped right out in contrast to the greening grass backdrop – even at the 55 miles per hour speed limit. A quick u-turn and verification via binoculars and I was on my way down the hillside to retrieve the antler. Decent 5 point side.
The other instances:
#1 came from a soybean stubble field on Maryland's Eastern Shore. At a distance in the 300-400 yard range, my first "road shed" also still holds my furthest seen mark.
#2 came a day or two after a prescribed burn swept through some mature longleaf pines in rural Alabama. The sun-bleached antler was glowing white against that burnt, darkened ground.
#3 was sighted on a recently re-graded, re-seeded hillside on the west side of the Auburn, Alabama, municipal airport. I spotted it going to work one morning and foolishly thought I was the only person keen enough to notice it. When I came back through on my way home, it was gone.