For each of the past two years I have broken my spotting scope tripod while mule deer hunting in Western Wyoming. So I finally decided to search out a seriously rugged yet lightweight tripod. I arrived in Elk Camp in the fall of 2006, I saw for the first time, the K&K Outdoors tripod. Over the next 5 days I had the pleasure of spotting elk through scopes mounted on this tripod. Soon after, I ordered one of my own after seeing and using the product.
I was immediately impressed by the construction of the tripod. The legs are manufactured from seamless extruded tubing which makes them strong while still lightweight. The components in the hub and leg levers are machined from solid 6061 T6 aluminum for extreme durability. The legs each independently click-adjust to 25, 35 or 45 degrees. This came in handy when we set up to glass in a jumble of rock. Despite the uneven surface we were able to adjust the length and angle of the legs to have a steady rest to view elk over a mile away. Since all the leg angle adjustments are independent at the hub, there are no pesky cross braces to bump your legs on while glassing. Cast nylon compression cam levers adjust the length of each leg. The vertical height adjustment is by a central column, held in place by a machined aluminum compression sleeve on the central hub.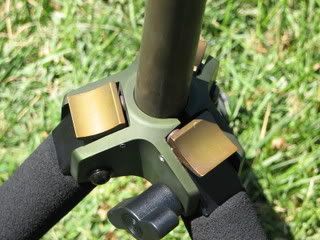 The pistol grip is designed for spotting scopes, binoculars and cameras up to 48 oz. The head uses a 1" ball for 360 degree horizontal panning, and 45 degree up or down vertical . There is even a slot to allow the grip to lie at 90 degrees from vertical, which is perfect for a rifle rest.
I had always used camera style heads, and I was impressed with the smooth motion of the compact ball head on the pistol grip. The pistol grip comes with a machined quick attach shoe similar to what you find for competition bow stabilizers. This allows you to set up quickly to glass and break down quickly to be on your way. This quick release locks in firm, not sloppy like others I've seen..
K&K manufactures three sizes of Tripods in either Forest Green or Camo
· The TP65 extends to a max height of 59 inches and collapses to 18.75 inches, weighs in at 51 oz
· The TP45 has an extended height of 45 inches and collapses to 16.75 inches weighs in at at 47 oz..
· The TP36 extends to 36 inches, and collapses to 14.25 inches and weighs 32 oz.
· The Pistol Grip head is 5.5 inches high and weighs a mere 12 oz
They also have Binocular adapters, window/tree stand mounts and 4 wheeler handlebar mounts.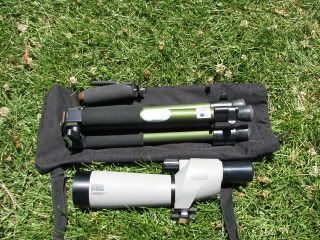 The TP36 I now own is small enough to fit in my small daypack or even a large fanny pack. It is actually, collapsed, nearly as short than my spotting scope. Despite its compact size this model is plenty tall enough to glass while sitting on my rump on a mountainside, or look over short brush. If you want a tripod you can stand up with, the TP65 is your best choice.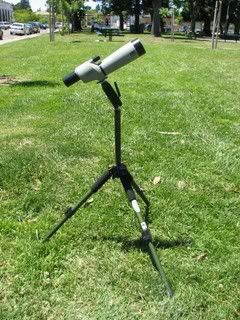 What I liked the most was the rugged construction. This is a tripod I can tie on the back of my saddle and not worry about plastic components cracking in the cold or weak hinges on the legs. While it might weigh slightly more than my previous lightweight tripods, I won't have the added weight of the duct tape it took to hold the lightweights together in the last days of the hunt. This is the steadiest tripod that I have had the pleasure of looking through, that I could easily pack while hunting in rough terrain. The only steadier tripods have been big, and heavy. The K&K tripod can be described by the adjectives: lightweight, steady, smooth, and rugged. I look forward to using this one for years.
You can get any of the tripods and related products from Sage Creek Outfitters