There are a number of ways to get your down elk out of the hills and back to camp.  Since elk live in big country, horses are a big part of our hunting success.  We can get to our daylight lookouts before dawn and let our mounts pick their way back to camp in the dark.  We conserve our energy for hunting, and we cover lots of ground a-foot and a-horseback. 
 Here is a brief discussion of the various ways you can get your elk out on horseback.
What we had luck with this year was to hitch the sawed quarters on to the riding saddles.  For this task I recommend 50 feet of 3/8 " kernmantle rope (braided).  It doesn't stretch, and has all the strength we needed to do the job.  It rode in my back pack wtithe intent being to hang quarters over night if needed.  I would recommend that horseback hunters just keep this in their saddle bag for this very reason.  Below is a front quarter with a Basket hitch (which hold the quarter up), and a crows foot (which goed to the Cinch and puts tension on the load.  Then we finished off with a Trucker hitch over the seat of the saddle to pull the tops together.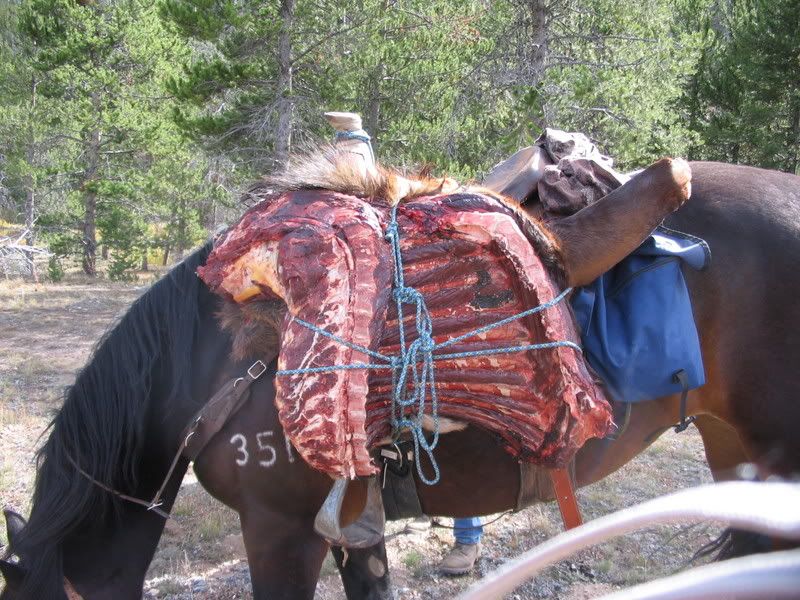 On the Rear Quarters, we were able to use 100 feet of Parachute cord to sling them in a Barrel Hitch.  This is known as "Makin' do with what 'cha got!"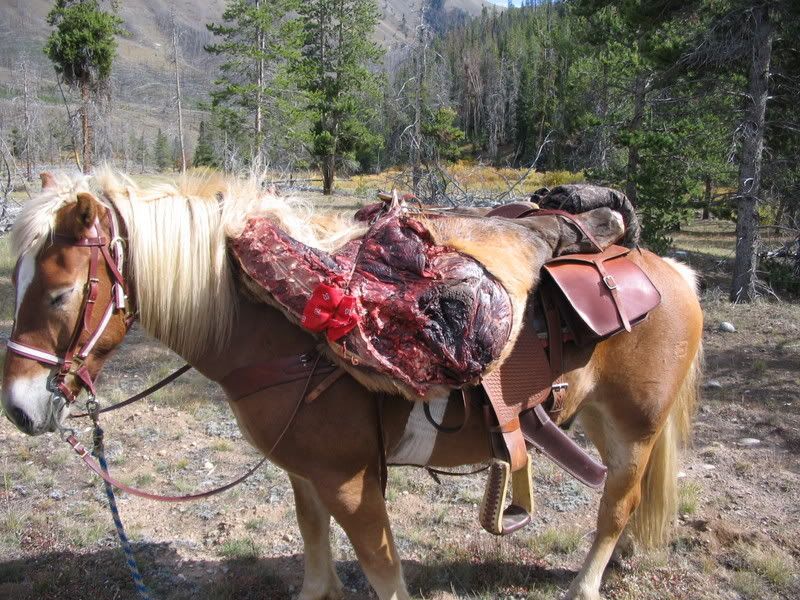 All of these hitches were designed for a pack saddle, but we adapted them to a riding saddle.
Saddle Panniers
These are popular with folks who don't feel comfortable using rope slings.  The idea is that you ride out with the panniers tied behind the cantle and then when needed, the one piece panniers fit over the seat of the saddle with cut outs for the cantle and horn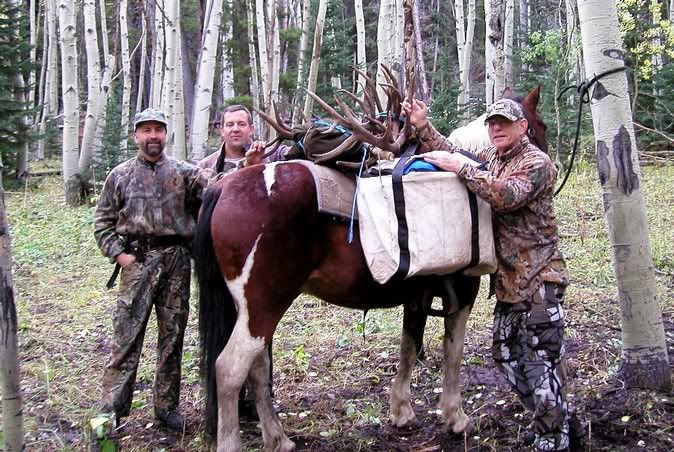 On a Pack Horse with Panniers

Special Care must be taken when when packing out antlers on horseback.  If the antlers are sufficiently wide, the main beam may be pointed down as this points the tines back.  With a more narrow rack, the antlers need to be kept above the horses hips to prevent the tips from poking your steed and sparking a rodeo (as shown in the saddle pannier photo).
Either way you choose to pack out your meat on horseback, I guarantee you will be singing the praises of your pack stock a few miles down the trail!
For more information on the topic, check out these titles, available at your local bookstore or at Amazon.com
Horses, Hitches, and Rocky Trails, by Joe Back
Packin' in on Mules and horses by Smoke Elser and Bob Brown