Over the years, I've developed a few friendships with people across the West.  Since the advent of the Internet I have been able to extend that circle of friends to include other folks I haven't had a chance to meet in person.  Chance "Lever" Shelton is one of those people I'm glad I got to know.  Chance is the owner and operator of Levergun Leatherworks in Athol, Idaho.  You may have seen his work on television on Best of the West, or Eastmans' Hunting Journal.  Or perhaps you have had the chance to peruse his work featured on his website: http://www.levergunleather.com .  Either way, his work stands on its own for quality and workmanship, and I thought our readers would like an opportunity to get to know the man behind the leather. 
  "Lever", as he is called by his buddies at Sage Creek, is 46 years old TODAY.  (Happy Birthday!)  Living and working out of the small hamlet of Athol, Idaho he makes his living doing custom leatherwork for outdoors and firearms lovers.  His most requested items he makes are buttstock covers, rifle slings, and knife sheaths.  He craves the challenge of a tricky design or artwork , but enjoys all of his custom pieces he creates.  I was amazed to find out that he has been doing leatherwork since he was seven years old.  It wasn't until the year 2000 that he began getting paid for his work, and in 2004 he quit a special projects engineering job and made it his sole income.  It wasn't always easy.  Chance tells about when he knew he was meant to do leather as a living.
God called me to do leather work. I know this due to me almost hanging it up to interview for a managerial position at Buck knives. Right before I was to go interview, the position closed, I was sent a notice to attend a church study and that week I booked $1000 worth of work. That month of Sept. 2006 was my all time best month for over a year.
 And the orders just keep on coming in.  Currently, Chance has a wait time of a little over a month, on a first paid, first serve basis.  Below,I asked Chance to tell us about himself.
When you are not working, what do you like to do to relax?
Be outdoors, BBQ, Cook,

shoot

my guns and my bow, reload, watch cowboy flicks.  Hey one thing I do to relax, one thing that is huge in my life and that is FISHING! I love fishing. I fish for all kinds of fish. Trout, Bass, Blue Gill, Perch, Crappy, etc.
Favorite species to hunt?
Elk, Deer, Dove, Turkey, grouse.
Most memorable hunt?
My first buck and my third buck.  First buck cause…It was my first buck!  Third buck cause we called it right to us and I dropped him at 10 yards!  But I remember all my hunts like they were yesterday whether I got something or not!  Hunting is much more than just killing animals
Favorite guns?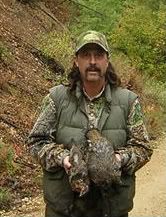 Grampa's 1916 Win. Mod 94 30-30, Kimber 1911 45acp, Shiloh Sharps 45-70, all the rest of my leverguns!

 (Now you see why he has the "Levergun" name) 
Favorite authors?
The Bible.  Other than that, I don't read by authors, never paid attention to that.
 Who has inspired you? 
Future goals, personal and professional?
I don't know….The most inspiration I can honestly say influenced me is the Holy Spirit.  Human would probably have to be John Wayne.These two are one in the same; I just want to be able to do enough leather work to be able to live here in the mountains, hunt, fish shoot and enjoy all the blessings the good Lord has blessed me with.
 I think in that last statement, Chance has expressed what I consider to be the "American Dream" .  I'm glad he is living his dream, and I'm proud to call him a friend and I'm always happy to refer folks to him.  Here is wishing you a Happy Birthday, and Best Wishes Chance!