I received the newest addition to the Badlands line this week and I immediately rigged it up for a test.  Badlands just recently introduced this unique binocular case and I wanted to see how it would work for a bowhunter like myself.  This new binocular pouch system is a revolutionary approach to multi purpose binocular holders.  Perhaps this is from Badlands sister company William Joseph with experience in the fly fishing arena where chest mounted fly boxes are adopted in western trout streams.
Now I am very happy with the bino system designed by Crooked Horn Outfitters, but what I found lacking was a protective system for when I was in heavy brush or rain and snow.  Nothing could be as annoying as pulling up my binos and have the eyecups full of pine needles or dust glommed on to drops of sweat(usually mine). 
The first thing i did was to get out my bear spray and a radio to put on the straps.  These are both items, I want close and handy when I am afield.  Mission Accomplished.  Both were easily accessible and another two items were off of my belt.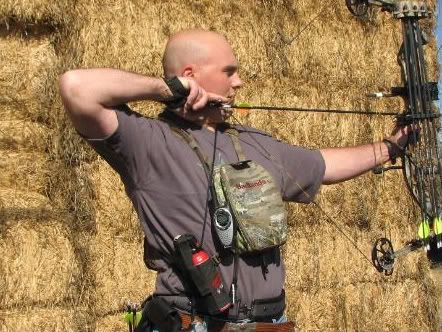 You might think that drawing a bow would be compromised.  Not so.  I shot repeatedly with the binocular case on and never had a single case of bowstring interference.  Not in the pictures below the bear spray and radio are well out of the way, yet handy as well. 
The main pocket, is held closed by an ingenious magnet system that creates a continuous seal along the edge that dust and water have great difficulty in penetrating.  It is known as "Zip No"  and patents are pending.  Inside there is an assortment of pockets and slots to hold a variety of items.  Mine now hold my license, a couple of diaphragm calls, an extra pair of shells (during rifle season), and a "cut chart" for shooting up and down hill.  A pair of bungees attach to your binos in addition to a main compartment that holds a pair of up to 10×50's.  Don't overlook the lens cloth tucked away neatly in it's own pocket on the side. 
On the bottom of the pouch is a hook that is sturdy enough to even hold my 8# compound bow while I glassed.  A welcome change to the bow hanging off my hip. 
Users of the Monster Fanny pack will appreciate the same hydration pouch that tucks away when not in use in the Yoke of the shoulder straps.  When deployed the mesh pocket holds a 35 oz hydration pouch with a drinking tube over either shoulder.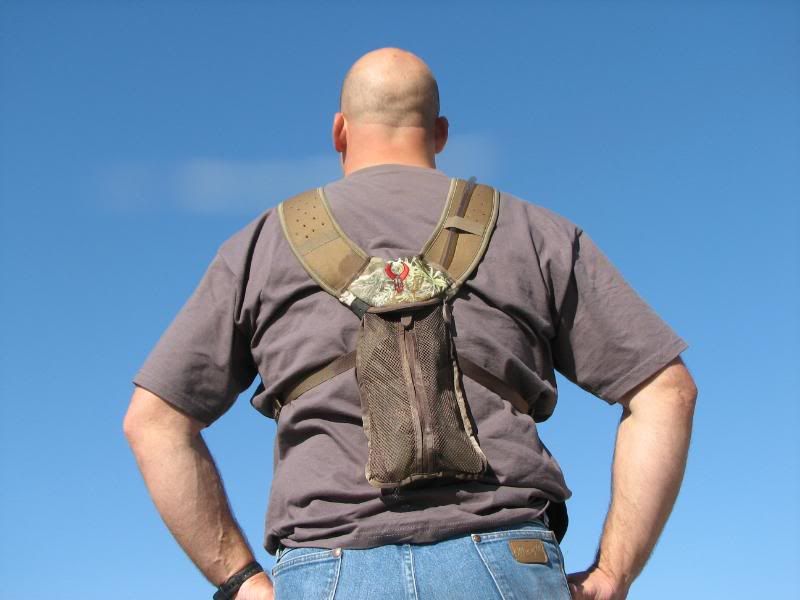 All in all Badlands has been the first to "one up" the tried and true bino system. I foresee it as a great companion to the top lid of the 4500 internal framed backpack that converts into a fanny pack.  I was impressed with its design, appearance and function, and like all of their products it is covered by the Famous Badlands warranty. 
It is available in eihter the Realtree AP HD or Advantage Max-1 from Sage Creek Outfitters for $59.00 plus applicable taxes and shipping.