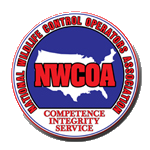 Dear Executive Board , National Wildlife Control Operator's Association (NWCOA?)
In your own words go ahead and tell me without prejudice why Tim Julian and Eric Arnold were even excluded from being master trainers in the first place. They paid their NWCOA dues just like all of you earned for your dedication to NWCOA. These men earned their own strong followings and are established authorities in this industry already for many years and recognized in the past by NWCOA , NTA, FTA, NPMA etc. You can't do it without quoting NWCOA Policy.
You can not dispute their recognition in the public as authorities in the wildlife control industry and both of them and a few others are actually peers of NWCOA on the same level like it or not.
I do remember tracking the progress of WCT Seminars being denied as a vendor trainer last year. Bad policies tend to make bad associations.
This is pure Silliness. Sorry.
You can fax me your reply at 855-699-4535. Thank You.
Robb Russell
ANYTIME WILDLIFE