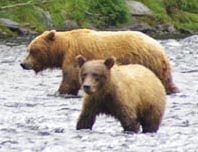 A hunter is responsible once he pulls the trigger. He has to know his target.
In Idaho, a man hunting along the North Fork of the Clearwater River in north Central Idaho, mistakenly shot a 500-pound grizzly bear thinking it was a black bear. I'm sure what added to the decision by the hunter to shoot is the assumed knowledge that the grizzly has been extinct in that area for over 60 years. So much for that assessment.
The bottom line for the hunter is he messed up. What will happen remains to be seen as now the incident is being investigated by the U.S. Fish and Wildlife Service.
Even though the grizzly was removed from protection under the Endangered Species Act in and around the Yellowstone National Park area, this area of wilderness in Central Idaho's Selway-Bitterroot Recovery Area, still has protection for the grizzly bear even though none were thought to exist there.
Evidently, the unnamed hunter had been set up in that area to hunt by a guiding service. The guide showed up later and identified the bear as being a grizzly. He contacted his outfitter who notified officials.
Because the bear is protected, now there is discussion about placing restrictions on hunting, logging, camping and road-building in this area. And then we wonder why outdoor sportsmen aren't eager to help officials identify the existence of protected species.
Tom Remington