Hunting in Northern WI has always been a way of life. We have a nine-day season that starts the Saturday before Thanksgiving and ends the Sunday after. Some call it Holy week here because almost everything here revolves around hunting that week.
Families get together and hunt and often times it is the only time of year that many people take vacations. It is a time of harvest, a time of reflection, and a time of Thanksgiving.
For me it is the time of year that I think most about my Grandfather, Carl. Every year there was the huge anticipation of getting to spend time with Grandpa and Dad. Now several years after his passing it is still a time that I am so thankful to have my father to hunt with, but I dearly miss my Grandpa.
We often times had to get up earlier than usual during hunting season to get "down to the farm" for Grandpa's made from scratch buttermilk pancakes. As we pulled into the yard and walked through the screen door that squeaked and then slammed, we could smell the pancakes, the maple syrup and the iron in the water. It gave the farm house a distinct and familiar smell.
The crew  would gather in Grandpa's yard before daybreak on opening day.  Handshakes with those we had not seen for an entire year welcomed friends and family back to hunt. Some of the young boys, filled to overflowing with energy, would yard scrap.
Back then we didn't worry about where we were going to do our drives, or in what order we would hunt them. It was the same every year. Life was simple and the buck pole was ready.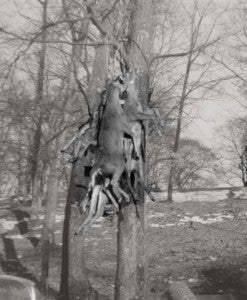 Grandpa was the "drive boss" so to speak. He called the shots. There was never any arguments but there was always much respect. Sometimes he would give us kids directions on how to do a particular drive. He'd say something like the following. " Just head over there a piece. Go west about 3 rods over the hog's back, past the green swamp. Head SE past the old 57 chev parked in the field and you should end up by the old oak tree where Vernon shot that buck back in 1953. You should see a stander."
We would nod our head in agreement and scramble to find our dads. The next conversation usually went something like this. "Dad, I need help. How far is a rod? Is that hill I can see from here the hog's back or is it the next one? Does the green swamp have tagelders in it, and should I go through it, or around it if there is water in it? I think I can figure out the car in the field part but who in the heck is Vernon? Grandpa said he shot the big buck in '53 but I wasn't even born until '65?.
To which our dads would laugh usually say something like this to set us at ease. "Go straight west until you hit a gravel road". (Really why couldn't Grandpa just say that?).
Then there were the rides up to "Buck Knob". Grandpa earned every bit of his nickname on this one. "Crazy Carl". Grandpa had an old red rusted out chevrolet  with a topper on it. He had placed an old bench seat from a wrecked truck in it for us to sit on and about 7-10 of us would pile in the back with rifles and bodies crammed everywhere.
Granpa's truck had 4 wheel drive but he seemed to want to prove that his trusty ride, could make it up the muddy hill without locking it in 4. He would just gun it and go. We would hang on for dear life on those rides and one time we even had to dodge the tree limb that came through the topper. We often ended up with knots on our heads from the top of the topper. We still joked about it every year as we remanice at the local tavern after hunting hours.
My Grandpa hunted until he was 89 years young. He loved hunting and being in the outdoors. At one point, when my oldest son started hunting, we had four generations that hunted together. How many kids can say the actually got to hunt with their Great-Grandfather? After Grandpa quit hunting he gave me his buck knife. I couldn't have been more thrilled. It goes with me as does grandpa's spirit every time I go hunting. It will be passed on to my son Jim someday, just like the tradition of hunting that Grandpa passed down to all of us.
I cherish the memories of the years hunting with him as I prepare for hunting season each year. The smile on his face out in the woods and his love of family and hunting. I miss his physical presence, but I know his spirit lives on in our family  hunting tradition and the legacy he left, each and every year.