I'm against illegal immigration. Conversely, I support legal immigration. After all, I am a product of the legal immigration process. I am convinced that this really is the elephant in the living room that no one really wants to talk about. Yeah, they just passed a bill. The President thinks its great. Whoop-de-doo. Hardly anyone else thinks it's great. I am absolutely convinced that unless you live in Arizona (or Texas, California, or New Mexico) that there is no way you can even begin to fathom this problem. No way.
A person could devote a whole blog to illegal immigration and its effects. The thing is, statistics can be skewed to favor one point of view or another. The whole debate may be too abstract to be clearly "winnable" by any side. What we need is solid evidence. Something indisputable. I believe the evidence is there. Evidence that can not be disputed by any side. Evidence that cannot be "tut-tutted" away. Evidence that ironically, should unite hunters and anti-hunters, liberal and conservatives, ranchers and greenies. What is that you may ask? Garbage. Not just a lot of garbage. Tons. Tons of garbage destroying the desert as we speak. Disrupting delicate ecosystems. Hurting or killing livestock and endangered species alike.
This isn't "litter", like you often see along Arizona roads (and what's up with that, by the way?). This is garbage. Take a bunch of landfills, and mold them into a long narrow landfill running parallel to the border.
An article in today's AZ Central covers it reasonably well: Garbage
After three years of cleanups, the federal government has achieved no better than a 1 percent solution for the problem of trash left in southern Arizona by illegal border-crossers.

Cleanup crews from various agencies, volunteer groups and the Tohono O'odham Nation hauled about 250,000 pounds of trash from thousands of acres of federal, state and private land across southern Arizona from 2002 to 2005, says the U.S. Bureau of Land Management.

But that's only a fraction of the nearly 25 million pounds of trash thought to be out there.

…………

The trash is piling up faster than it can be cleaned up. Considering that the Border Patrol apprehended more than 577,000 illegal immigrants in 2004-05 alone, the BLM figures that those people left almost four million pounds of trash that same year.

That's 16 times what was picked up in three years. And that doesn't include the unknown amounts of garbage left by border-crossers who don't get caught.

………

The trash includes water bottles, sweaters, jeans, razors, soap, medications, food, ropes, batteries, cell phones, radios, homemade weapons and human waste.

It has been found in large quantities as high as Miller Peak, towering more than 9,400 feet in the Huachuca Mountains, as well as in low desert such as Organ Pipe National Monument and Cabeza Prieta National Wildlife Refuge.

"In the Huachucas, you are almost wading through empty gallon water jugs," said Steve Singkofer, the Hiking Club's president. "There's literally thousands of water jugs, clothes, shoes. You could send 1,000 people out there and they could each pick up a dozen water jugs, and they couldn't get it all."

While nobody has an exact cost estimate for removing all the garbage, it's clearly not cheap. But McFarlin agrees with several advocacy groups that without a tightening of controls on illegal immigration, a guest-worker program or other reform of federal border policy, the trash will just keep coming regardless of what's spent.

In 2002, the United States estimated that removing all litter from lands just in southeast Arizona – east of the Tohono Reservation – would cost about $4.5 million over five years. This count didn't include such trash hotbeds as Ironwood Forest National Monument, the Altar Valley, Organ Pipe and Cabeza Prieta.

……….

The accumulation of disintegrating toilet paper, human feces and rotting food is a health and safety issue for residents of these areas and visitors to public lands, a new BLM report says.

"It's particularly serious in areas where there are livestock," said Robin Hoover, pastor of the First Christian Church in Tucson and president of Humane Borders, a group that puts water tanks in the desert for immigrants and coordinates monthly cleanups of Ironwood Monument and other sites.

"I've even found injectable drugs in the desert," he said. "It's rare when we find that kind of stuff, but there's tons of over-the-counter medication out there. If some cow comes along and eats a bunch of pills, that would be a real sick cow."

The trash also isn't good for wildlife, said Arizona Game and Fish spokesman Dana Yost. Birds and mammals can get tangled up in it or eat it, causing digestive problems, Yost said.
Surely, we can all agree that this is unacceptable. Clearly, this has to indicate that there is indeed, a problem. Maybe this will enrage the "green-slanted" folks enough that they will mobilize.
Arizona Hunters Who Care run trash clean-ups every year. Volunteers are always astounded at the amount of garbage.
A great site for information and photos is Desert Invasion
A photo from a post on Coues Whitetail.com Caption reads "taken by a hunter in Unit 36A"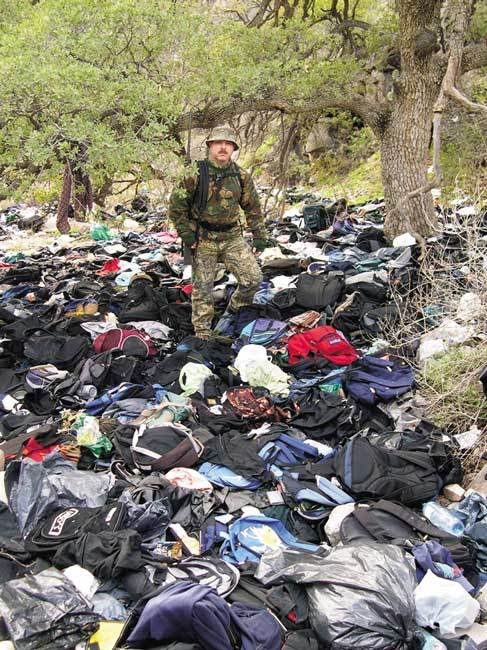 More