OK, some miscellaneous notes….
I spoke with Brenda quite awhile back – late August actually. I had it in my head that I was going to post some other interviews first; unfortunately life got in the way. Finally, I got this posted. I'll get back to the other interviews in the coming weeks.
I don't get "starstruck" very easily. When I spoke with Brenda, I was stammering like a schoolboy, and nervous as heck. I don't know if it was because she is one of the most recognizable hunting celebrities out there, or because she's pretty as all get out. It may be because she can hunt circles around me. That cool southern accent definitely had something to do with it. All in all, I loved talking with her, and she really is down to earth, funny, and intelligent as well. I hope to meet her face-to-face one of these days.
After some scheduling via e-mail, I finally had a chance to speak with Brenda one morning (via telephone). She was in her Puryear, Tennessee office. After some pleasantries were exchanged, the interview began.
1) First, I asked Brenda "How did you get here?"
Brenda told me that she "couldn't take much credit" for where she is today. She said that her success was a product of some luck, and good timing. She told me that she thought the hunting industry was ready to allow a lady hunter into the industry, and that she offered genuine credibility. Brenda was busy in the late 80s and early 90s shooting archery – IBO tournaments and 3D matches in her town. She was doing well, and as Brenda put it "Word got around". The PSE rep bumped into her at some point – eventually he paid her a visit and offered her a sponsorship. Up until now, Brenda had never been out of Tennessee. The following year, PSE approached her and asked her to join a National Team. In 1991 she was a part of a 3-lady team that one the National Title. Shortly after that the VP of PSE called her to let her know about Browning. In 1995, representing Browning, Brenda was sent to an event at Bass Pro Shops. There she ran into Bill Jordan of Realtree, who offered her a job, on the spot. Brenda's popularity continued to snowball. Today, she is a writer, TV personality, photographer, videographer, seminar speaker, and more.
2) I asked Brenda of all her career areas (writing, tv, radio, seminar speaker, etc.) – What did she enjoy doing, the most?
Brenda replied "I like them all – because there is a mixture, you don't get so burnt out. I do like seminars – I get to meet a lot of people."
3) "Being a country girl, how have you adjusted to all of the fame?"
"Nothing has changed. I still gain friends and fans, one at a time. I try to personally answer every phone call, and every e-mail. I still hoe my tomatoes. I still clean my stalls. I still plant food plots. I mow the yard. I live pretty simply."
4) Next I asked her "Can you ever just "go hunting"?
Brenda told me that it's hard. For example from the 1st of September until mid-January, she was going on thirteen different big game hunts. She did tell me that she had just recently gone squirrel hunting with her grandson. Her husband did take the video camera along, but it was mostly for fun and her grandson had a great time.
5) I asked Brenda if she prefers hunting with her bow, her rifle, or her muzzleloader.
"Mostly, I prefer bowhunting. But TV shows require hunting in a variety of seasons, so I have to use them all. I probably like shotguns the least."
6) What is your favorite animal to hunt?
"Whitetail deer", Brenda replied without hesitation. "Day in, day out – nothing matches the challenge of hunting whitetails."
7) I was curious about what Brenda thought was her most memorable hunt.
"Oooh – I've had a lot of memorable hunts. One of my most memorable was hunting bear and mountain lions in Northern Idaho, with hounds. I think that this is one of the toughest hunts in North America. I did a 16-day horseback huntin Alaska that was real cool. Once I went on a 7-day float trip in Northern Alberta – that was a real adventure!"
8 ) "Any hunts that you haven't been on yet, that you want to do?"
"I haven't hunted big coastal grizzlies yet. I'm not usually interested in the goats and sheep, but I have a Dall tag in Alaska next week. That will be a first. I love Africa – you never know what is going to show up. I'd like to hunt elk in Arizona, and mountain lion, too." I asked her if she's hunted Coues deer yet. "Nope, not yet – they're little!" Brenda teased me about Arizona and how "stingy" we are with tags. That treatment isn't exclusive to non-residents, I assured her.
9) I have always been intrigued by sponsorships. "Are sponsorships something you work at? Or do they come to you? Tell me a little about sponsorships.."
"I learned early on that in order to be successful, I needed to set criteria for the relationship between me and the companies. First – I need to really believe in the the product. If you don't believe in it, it will be hard to promote it. The public will sense it too. That doesn't do you or the company making the product any favors. Second – the people who own the company have to be good, decent people. Most of the time this has worked, and I have ended up staying with companies for years.
10) "So, what's left in your career? What next?"
"Hmm – I don't know, there's a lot left to do. The direction in which I am leaning is promoting the lifestyle and industry. I'm trying to impress on people just how fragile things are. The antis are chipping away at us." I commented to Ms. Valentine how I bristled when I saw hunters putting down other hunters – hunters against baiting, crossbows, inline blackpowder rifles, etc. "I agree", she said. "Hunters are notorious for division. Everyone who is against us counts on that. Keep separating us, and attack what is left."
"I love getting kids involved", she continued. "I think it is important for hunters to stay aware of legislation. They need to research political candidates. We need to preserve our heritage and continue passing it down to future generations. I think hunting is valuable in that it provides a sense of normalcy to the world; hunting is the right thing, it is inborne in people. Hunters are active in preserving wildlife. I'm going to continue to work on projects that raise money for habitat conservation."
11) "Does it ever feel like work?"
"Sure, but not the hunting part. I'm tired of airports. I have days where I'm tired of sitting out somewhere, in a wall tent in the rain. I get tired of packing and unpacking. Once I'm back out in the field though – on a stalk or in a treestand waiting for that big buck – I'm doing something I love."
12) I asked how her book was doing.
"Well, it's been out for a couple of years, and it is doing fairly well. I haven't had much time to promote it though. It still sells out at sports shows. I wrote it mostly for my own self-satisfaction, but it is still nice to see it doing well."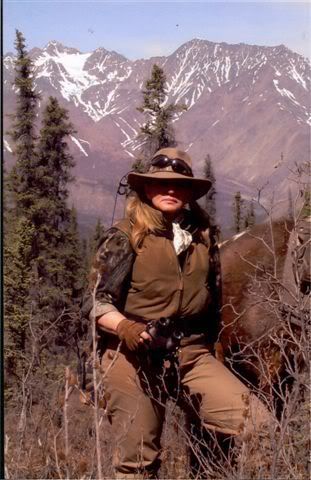 Brenda has a great website set up here. She has a ton of interesting stuff there. You can order her book here. I hope to be able to post a review in the future. I have 2 missions now – to get Brenda Valentine here on a Coues hunt, and to get her to sign a copy of her book for me, next time she's in town!
What a classy lady, and I truly appreciate the opportunity to have spoken with her. I wish her all the best!