Early last summer, Vince Kite over at Alpine Archery was generous enough to send me a whole bunch of product to review and use in my bow project. As mentioned, I got the OK from Vince to have a friend review the rest that they sent. Dan Clark was kind enough to do so. Dan is a great writer anyway and coincidentally – in need of a rest. Great job, Dan – thanks!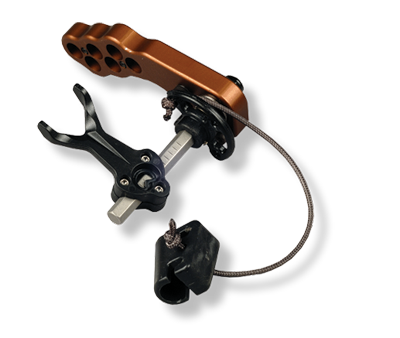 Product Review – Alpine Whisperflite Match Grade Fall Away Rest
Back in mid-May, my good friend Marshall (aka Desert Rat) offered me an Alpine Whisperflite Match Grade Fall Away Rest. He told me Vince Kite over at Alpine Archery had given it to him. Marshall offered to give it to me, providing one small detail. I had to write a review about it!
After about 2-1/2 seconds to think it over, I agreed, and promised Marshall I'd have it to him by mid-August. Well, yeah, I'm a bit tardy, but I'll spare the excuses why and get on with the review.
Being a relative new-comer to archery hunting (3 years this month), I was a bit apprehensive to write any product review on archery equipment. After all, I'm just your average Joe archer and not Randy Ulmer. My apprehensions went out the window after the rest arrived, and before I finished opening the packaging, I could tell the Alpine Whisperflite was a "real deal" rest. The class III hard coat copper brown finish of the mounting bracket immediately drew me to its stylishly handsome appearance. Good looks don't always mean much and I was eager to get it mounted and put it to the field test, so I took my bow and the new Alpine Whisperflite to John Decker, down at Bull Basin Archery in Flagstaff, Arizona.
When I explained why I was there, John was more than eager to mount the new rest for me. I wanted it perfect and knew he could do that for me. While there, I also had him install a new string and loop, but – that's another story for another day. In no time at all, John had me out the door and on my way home. (With treatment like that, I should offer to do reviews more often! )
I spent most of the day today (12/31/08) shooting the new Whisperflite rest. I juggled with the "newness" at first, but after a few 5-shot groups, I quickly became accustomed to it. I only had to make one micro-adjustment to the windage of my sights, but after that, it was smooth sailing.
I found the rest to be impeccably quiet, extremely responsive, and very reliable. It didn't take me long to realize just how packed with quality features it really is, and with features typically found on more expensive fall away rests. The Whisperflite utilizes sealed ball-bearings, offers buss or cable slide pull capabilities, sports a built in arrow holder on the launcher, independent windage / vertical adjustments, and universal mounting holes for a perfect fitment on any of today's modern compound risers.
After spending the better part of today shooting, I must give the Whisperflite rest a "two thumbs up". For a quality fall away rest under $55, I doubt you'll find one that exceeds the Alpine Whisperflite in performance and features. While I've only owned one bow in my 3 years of archery hunting, the Whisperflite is my third rest. I have to say, if Alpine's bows are half as great as their Whisperflite rest is, I may just go down and shoot a few. Never know, I just might be an Alpine Pro Staffer someday. LOL…
Good luck – and Happy Trails!
Dan Clark