A couple of weeks ago I mentioned that I was in the process of buying a new rifle. Well, the rifle is here, and I want to thank the guys at Coleman Tyler for some great customer service!
The first part of my review will highlight the rifle. Part 2 will focus on my experience at the range.
Here are the stats from Mossberg:
MODEL: Model 4X4 Bolt Action Rifle
SAFETY: Two Position Safety
TYPE: Rifle
SIGHTS: No Sights
CALIBER: 270WSM
BARREL LENGTH: 24″ Free Floating Button Rifled Fluted Barrel
FINISH: Matte Blue
OVERALL LENGTH: 46.5″
ACTION: Bolt Action
WEIGHT: 6.75 lbs
STOCK: Black Synthetic Skeletonized Stock
MAGAZINE CAPACITY: 3+1
FEATURES: Box Magazine, LBA Trigger System
Factory Installed Weaver Style Base
BUTT PLATE: Black Recoil Pad
MUZZLE: Integrated Ported Muzzlebrake
RECEIVER: Matte Blue
The rifle comes appropriately boxed and there were no nicks, scratches or other cosmetic defects.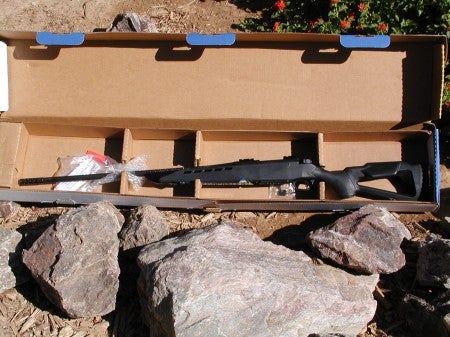 This rifle comes standard with a muzzle brake and fluted barrel. Nice features, I can't wait to see if they enhance performance!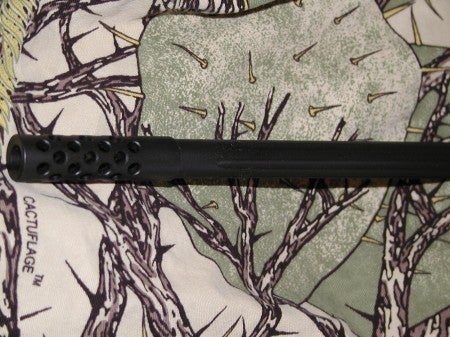 This rifle also comes with factory-installed Weaver-style bases. These were tight, and appeared to have been properly installed.
Some think the modenistic stock is ugly, but I think it is kinda neat. The forestock is vented, and the butt is skeletonized. I gotta say, with the rifle up to my shoulder, the contour of the "cheek pad" is just right!
Every 4×4 comes standard-equipped with a "Lightning Bolt Action" trigger, user-adjustable down to 2 lbs. This is similar to the Accu-Trigger found on Savage rifles.

I am going to top this rifle with a 3.5-10 x 50 Diamondback Scope from Vortex. Vortex has an awesome warranty and I always recommend their products as the best value in the market today! I used "medium" rings which I think I will change to "high". I have minimal clearance between the front housing of the scope and the barrel. I think it would work fine, but I'd like to have a little more to allow the scope caps to go on and off more easily.
The "fit and finish" on this rifle seemed wholly adequate. I didn't see anything to make me go "ugh". The clearance of the bolt is a bit excessive in the guides for my taste, but it locks down solidly, which is the important part.
On my model rifle, the price was around $365, with tax it was out the door for just a smidgen over $400.