I'm an empath and one of the effects of that is I can tell pretty quickly whether or not I am going to connect with somebody. I seem to be able to judge character pretty quickly and fairly accurately and with my friend Stephanie it was no different. Even across the interwebs I could tell she was someone special. I was drawn to her goodness, her humility, her energy. Stephanie is a hero in every respect. She is a nurse that has been working through the year of Covid-19. She is a fierce, independent spirit that uses her voice and her adventures with her dog Raine as a tool to help people. I'm extremely gratified that she spent some time answering my questions. Stephanie has an amazing story and I am grateful she allowed me to help tell it ~DesertRat
1. So – MightyDog and SpiritGirl – How did it all start? Why did it all start?
It started when I opened my Instagram account. In trying to start a community I started reaching out to successful accounts and asking questions. I learned quickly that your photos were everything. Photo apps were a necessity and I came across a filter that cartooned my photo. I thought "Wow – this looks like a cool comic". There was quite a bit of patience, fortitude and willingness to just get my content out there so I can start sharing my message with the world. Engagement and keeping our community coming back was my ultimate goal and there was only so many ways to showcase a girl and her dog. When I came across the filter I just had a moment of hyper focus and I just started letting my creativity flow. I found the apps with my original pictures and started creating little quirky stories that touch on moral character and virtues. Like little reminders of core characteristics of good morals and integrity . I started to research names and MightyDog and SpiritGirl was born. I did quite a bit of studying as I always do when I am determined to do something and do it right. Clicking through your IG account to something that represented me and the purpose of my IG was next. So I made the website MightyDog.org. I am pretty proud of the way it came together. Its a platform for my creativity and also an inside look into my life and reason I am here sharing my story. These comic characters or superheroes expand the basic framework of my message to give me many options moving forward.
I had a very difficult 7 years or so. I left my old life and began my journey of healing. Solitude had become a coping mechanism and a way of life for me. When my girls were not with me, I spent my time on the couch. Ruminating and trying to make sense of it all. No TV and silence for days until they retuned.
The comics prompted me to try something new. A new way of self branding. I parallel Spirit Girl and MightyDog to Raine and myself. With that said, I think there is just so many ways to go with this creatively. Right now the goal is to associate SpiritGirl & MightyDog with humanity, triumph & resilience. Overcoming the odds and rising to the occasion. SpiritGirl & MightyDog respect my story of survival. Seven years ago my cross was too heavy to carry. I wanted to take my life on three separate occasions. I was alone with no support, ostracized from family and friends as a result. I often remember screaming "Please! I am a human being!" but it always fell on deaf ears.
2. Tell us about your dog Raine – how did you choose her? Why that breed? What's her personality like?
I always wanted a hunting dog. I guess it takes me back to my childhood where warm memories existed. Becky Jane, the family GSP shared my life until I was 13. As my daughters and myself started to settle into a new way of living… and the sun was starting to shine through. The pandemic of 2020 hit. I am an RN with a Master's Degree in anesthesia. In the beginning no-one knew what would happen in Pennsylvania . Would we be like Germany and New York..? As an essential employee that would be caring for very sick COVID patients, there was more at stake here for me… my ability to care for my daughters was under constant scrutiny and there was a very good possibility that if I was unable to return home during quarantine they would not be there when I returned. As the world politicized this, frontline employees were preparing to say goodbye to their families and go to war. Those days, preparing for the worst, were the toughest days of the year for me.
The unknown trajectory of the destruction of the virus during quarantine here in PA … and I started studying. I was on a fast track orientation to practice as a provider in which I would be responsible for decisions that could save or end a life. My first day in the COVID ICU unit took my breath away. In 25 years of medicine this was easily the most stressful and frightening experience. But if the last seven years of my life didn't take me down – I'd be damned if Covid 19 was going to hurt my girls or take me down. I started to educate via social media. I worked with State Representatives and the County to bridge the gap by education public servants so they can make good decisions to protect the people. Educating my daughters to masking and social distancing across homes was not possible. In trying to protect my girls from the virus I tried to educate and control how the virus came into PA . I tried to get the New Jersey / Pennsylvania border closed but was unsuccessful. In the end, we weren't overcome in the hospitals, so I was able to go to work and come home daily. I have had the vaccine and my children are COVID-free; I seemed to flourish in the devastation. Due to the quarantine restrictions placed here in PA, it was a safe and it was during this safe period that I decided that I should go for it and get that hunting dog I always wanted – and God gave me Raine. Quarantine's November Raine, to be exact. It would prove to be a decision that changed the trajectory of my life.
3. Tell my readers how you got involved in these types of causes and why they mean so much to you.
Coming to terms with my change in life circumstances, solitude was comforting but it left me with naked and numb in front of a giant mirror only visible when the house was quiet. I spent all my adult years providing for my family that I couldn't see me in that mirror. Free time was spent on the couch, no TV.. ruminating about the events that brought me here. My final escape was supposed to free me but my chains were not cut free. I was a victim of stealing, cyber bullying, intimidation, exploitation, and slander. Through a series of unfortunate events my life became a very public display filled with the judgment of bystanders. The oppression continued to be a continual series of hate. I was ostracized for simply being me. For standing up for myself and choosing to live life on my terms. BUT I continued moving forward … One foot in front of the other.. and I never ever looked back. I was walking in my truth and if not one person believed me .. I did not care. I knew the truth and I refused to succumb to the demands of others… and my daughters were watching.
4. You're a nurse (Thank You!) how has Covid affected you?
As a nurse I was born to care for people. My whole life was met with adversity especially the last couple of years. As I struggle to make sense of it all, 2020 became a year the no-one will forget. I lost 3 friends to suicide. Journaling my story became very healing. I found my purpose – to help others on a larger scale. As I was trying to grow the IG community… so people could hear my message.. the MightyDOg.org web site was developed.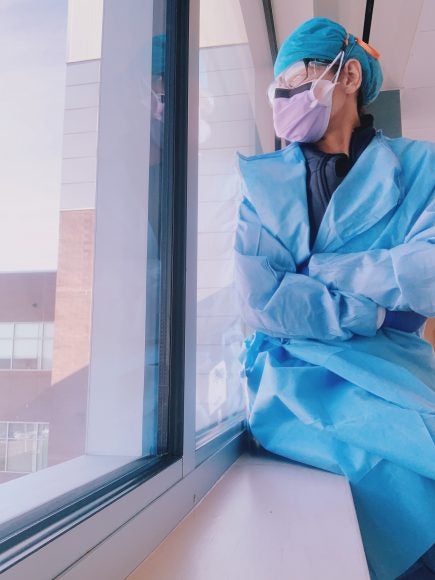 5. The cartoon format is cool and a nice touch – what prompted that?
It kinda just happened. Everything that is meant to be is just happening and lining up. After hearing about the death of a childhood friend .. the MightyDog Foundation was born. It is in the works and I continue to lay the groundwork for the MightyDog brand.
6. How is it going, training Raine? What has been the biggest challenge? What has been the biggest surprise?
Training Raine is extremely rewarding. It negates all the negative self talk that I have been accustomed to believe. Through loving Raine, it validated my worth. I now see myself as inherently compassionate loving, and good hearted. Through her success in the field … it is a mirror of our bond and love. I have become a stronger woman and more confident. No-one can hurt you with words when you truly believe you are worth it. It has allowed my creative side to flourish. I also came to realize how horrible I allowed myself to be treated by so many people in my life. There was one point in my life I would apologize for not being worthless enough. I gravitated towards people who treated me with oppression and I encouraged it as well. I self inflicted torture. I truly believed I was nothing. Raine gave me consistent, tangible evidence that I am worthy of love and to be treated with dignity and respect. I look back and it is hard to think about. So for me, the best thing is how well Raine is doing. Our love for. Each other and our team work is evident everywhere we go. As far as challenges .. I don't know I haven't looked at it from that stand point.
7. Do you just hunt or fish also? Did you grow up in a hunting and fishing family?
Yes I taught myself to rifle hunt this year so I can go myself! I didn't get to harvest but my goal was to load my gun, get in the woods, sit and leave without help. I did harvest my first rooster pheasant the year. I have been really into upland hunting with NAVDHA training so I can enjoy the outdoors together with Raine.
8. What are some of your goals regarding the MightyDog project?
MightyDog is just getting off the ground. I am not sure which way it will go. I want MightyDog to represent resilience, strength, courage. Love who you are. You can do anything.. so just do it! When you see or hear the word MightyDog, I want it to light that fire in your soul to reach your highest potential. I would like the see MightyDog and SpiritGirl become the superheroes of humanity. Giving us all hope post-2020. No matter what you CAN live a life you love! Whether that is through the MightyDog Logo on clothes, dog apparel, TV cartoons or comic books – MightyDog and SpiritGirl is what every young person strives to become – the best version of themselves.
9. What are some things you would want to tell my readers?
Your life matters. No matter what. You are human here like everyone else become the best version of yourself. Fight for your happiness… LIVE YOUR LIFE… with purpose .. Put yourself first always.. and when you do.. everything falls into place. World peace starts with inner peaceaand there is no better time to make it happen than right now . You are worth it1
10. What is your "bucket list" hunting trip?
I have not thought about that. I never really traveled much so I am not sure what is really out there.. I am just happy that I have understood the message life is teaching me so I can live and live well.
Follow Stephanie and Raine on Instagram here: Life With Raine
Visit their website here: MightyDog.org
I can't thank Stephanie enough. She poured out her heart for this interview and what an interview it was. She's a beautiful, kind, real-world hero and huntress, mother and dog mom to Raine – and I can't wait to watch the adventures of MightyDog and SpiritGirl unfold!