She's model-level beautiful, she's one hell of an angler – saltwater and freshwater. She's a patriot and successful businesswoman, a skilled outdoor writer and has a huge online presence. But what I like most about Heather Smith from Heather Smith Outdoors – if you are a misogynist or common buffoon and you are dumb enough to say something stupid to her online? She will slice you and dice you. Big time. I love her content and I love how she doesn't suffer fools. She's a cool lady. I'm so grateful she took the time to answer some questions for my readers. ~DesertRat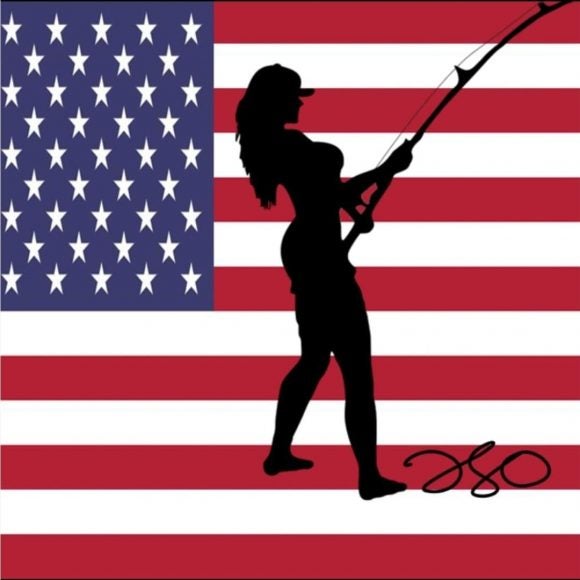 1. Well – the standard question first – how did you evolve to where you are today? How long have you been doing this and what got you started?
In 2018 my family passed away, so I moved from Houston, TX up to Sam Rayburn Lake to take over the family business. My mom wanted her ashes spread on Sam Rayburn. I didn't know anyone here and with everyone in our family now passed on, I was in a new place with my two small children and I was alone. I missed my family, I missed my mom. I grabbed a fishing pole and went out on the lake everyday to visit her. Eventually it became more about fishing and less about visiting Mom.
Two-time Hall of Fame Bass Fishermen Bob Sealy, was a family friend. He saw what I was doing everyday and one day he told me, "Alright kiddo, if you are going to do this, you are going to do this the right way." He took me under his wing and started mentoring me. The Pro Bass Fishermen and Legends in the area all wanted to see me learn the right way and they put me thru what I call a bass fishing boot camp for months. Then I started entering tournaments. From there networks and magazines saw what I was doing and they started contacting me. Texas Outdoor Lifestyles from NBC had me on their show, Texas Parks and Wildlife TV had me on, Florida Fishermen Magazine brought me on their staff and then the Producer from the Elite Fishing League on Discovery Channel reached out to me to come on the show as an analyst. After that, the Co-Founder of the Pursuit Channel and owner of the Hunt Channel contacted me and asked me if I wanted my own show, Heather Smith Outdoors.
All the while, I just kept fishing. My dad had been a tug boat captain for Otto Candies and my mom was in Sam Rayburn. So whether I am fishing Saltwater or on the Lake, I feel like my family is with me every time I step on a boat. It gives me peace. I found something that I love to do and share with others. One can say that fishing saved me, at the very least saved my heart.
ln addition to my show, I now have my own Heather Smith Outdoors fishing rod line with Old 18 fishing rods and a signature clothing line with Reel Wicked Fishing Apparel. I also have a kid's rod coming out later this year.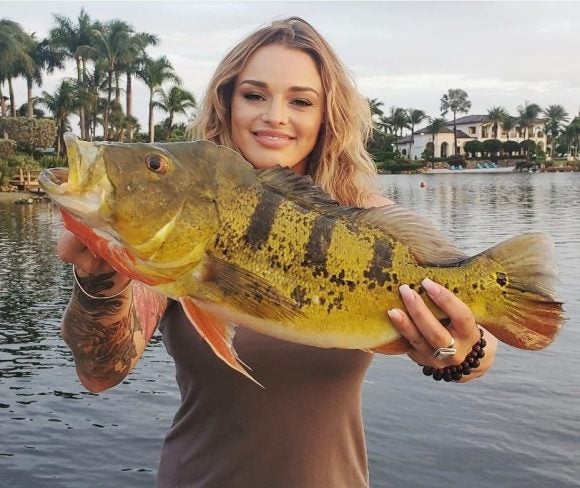 2. Do you see yourself as a role model? If so, to whom? All anglers, kids, lady anglers?
That's a loaded question, LOL. I see myself as a Mom that tries to live her life with integrity, honor and of good character. My job is to be a good role model for my Littles. Children deserve a parent to be proud of. I also have sponsors, a network and a magazine to represent so I behave in a manner of how I would want someone representing my family, because that's what we are all like, family.
3. Where would you like to see Heather Smith Outdoors in 5 years?
Alive??!! Can I say that?? Lol. I would like to see my brand grow and get additional product lines. I have a lot of bucket list fish I want to check off between now and then. I want to evolve as an angler and become a better version of myself. My Littles fish with me a lot on my show so I am anxious to see how they blossom in the fishing industry and as junior anglers. HSO is more than just women in fishing or a show. I want to use my platform to encourage others to follow their dreams and passions. To face challenges without hesitation and to show more kindness and compassion in the world. Adapt and overcome, that's my motto and I would like to see a little more encouragement and a whole lot less bullying from everyone. If I can help make that possible in 5 years of what I am doing, then it will be worth it.
4. You attract a lot of childish, sexist comments on Social Media. (I love how you smack them down by the way). Do those comments ever get to you or are they par for the course?
Of course it's never welcomed. But like they say the best way to get on a guy's good side is to take something they love to do and be better than them at it. Lol. 🤣🤣 In all honesty, I roll my eyes a lot. I am often stunned that some of these people lack decency and manners, but I can't control the behavior of others. I can only control my reaction to their behavior.
5. You're stunning and in fabulous shape – is that a part of your fishing persona or separate? Do you think being so pretty is a bonus or liability in your pursuit of being a fishing celebrity?
Thank you for your kind words. I don't see myself that way, at all actually. Lol. My love for fitness came way before fishing. My dad was a body builder and I have always been athletic. As I mentioned before, I am all my daughters have left in my family so it's my responsibility to ensure I am around for a long time. I want to play with my future grandchildren one day. So I try to stay healthy and fit. What you see is what you get with me. I don't have a persona per say. I'm the same lady whether I am in the kitchen making dinner as I am 80 miles offshore out of Venice reeling in a yellowfin tuna.
I know that being considered pretty works as a detriment in this industry. I have to work three times as hard as everyone else to prove I know what I am doing and to do it well. People don't take you serious at first glance. So you just have to keep showing up and proving them wrong every day and never give up. I spend my evenings reading up on new lures or even going back and reading old fishing books like Spoonplugging. I have never been on a pursuit to be a fishing celebrity. I just want to embrace the outdoors and take it to the next level. I'm in a competition with myself to be better than I was yesterday. While I am learning, I show other people what I am doing so they can see how to get out and enjoy it for themselves or with their kids too.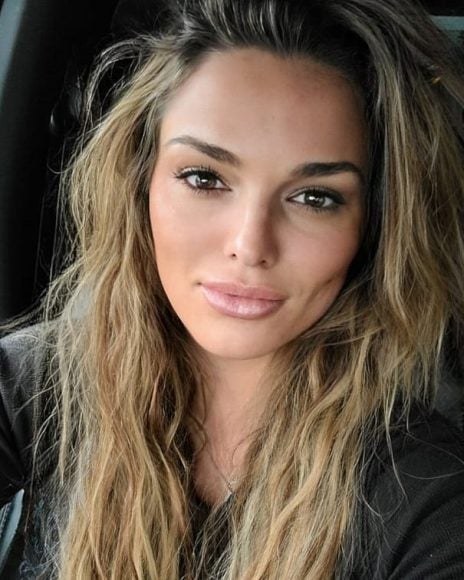 6. What do you like to do besides fishing?
I love to cook, definitely one of my favorite things to do. I make everything from scratch. I always say life is too short for mediocre food. Lol. I'm an avid stargazer, I even have 3 telescopes. I adore my gym time. I am a huge bookworm and I love to travel and see new places.
7. What fishing trip is on your bucket list?
I am about to head up to Alaska to check off King Salmon and Halibut off my bucket list. That is definitely one I have been waiting to do. I was supposed to go to Bora Bora this June to catch a Giant Trevally, but Covid has messed up international travel and Bassmaster Classic was rescheduled to the week I was set for Bora Bora. I have to be at Bassmaster Classic with Sealy Outdoors.
8. What is your favorite fishing right now?
Anything with fins…lol. I love bass fishing, that is my comfort zone on the water. There are so many variables in bass fishing, it's always a game of chess with that species. However, I thoroughly enjoy tuna fishing because of the fight and I get to stock the freezer. I always say I am getting groceries when I go offshore. Marlin, Wahoo and Sailfish are also another favorite of mine. Marlin put on the most spectacular display when they are fighting. It's an exhilarating sight to behold.
9. What do you consider yourself? Celebrity? Professional angler? Model? Magazine writer and editor? Mom? All of those?
I'm a Mom that loves to fish, that's what I am.

10. For folks who don't know much about you, what would you like them to know?
I think I pretty much answered everything.
I'm so grateful to Heather for taking some time out of her schedule to answer some questions. If you follow her online, you know how busy she is! I can't wait to watch her business and industry presence grow. She's smart, down to earth and just good people – if anyone is deserving of success it is Heather! ~DesertRat