Thanks to Skinny Moose Media I had the opportunity to review the Magnet Gun Caddy.  The Caddy is a small plastic and foam device with a magnet on the back.  It is made to hold a gun upright against your car or truck before or after your field outing. 
The picture on their website showing a shotgun leaning unassisted against a truck brings back memories of youthful pheasant and quail hunting in my native Kansas.  A damaged sight bead, a scratched gun, a scratched vehicle, a disaster waiting to happen.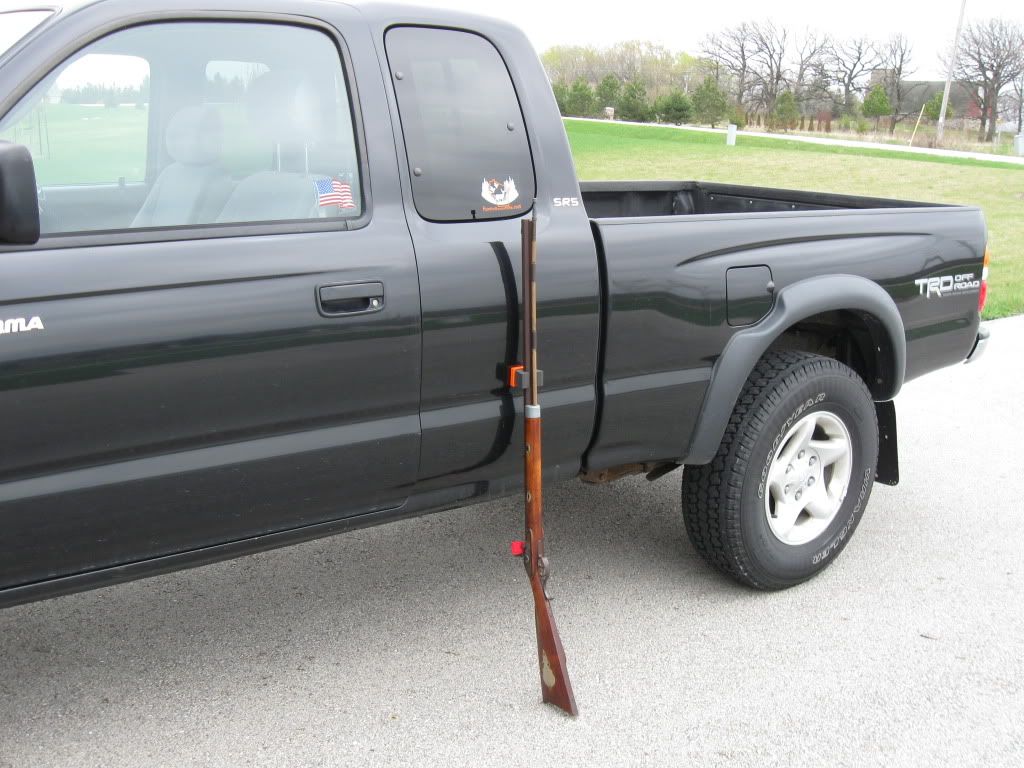 I didn't think they would have released the product to the public or asked us to review it if it wouldn't hold up a measly shotgun or rifle so I decided to give it an opportunity to hold up some real iron.  After reading the instructions on the package and on the handout provided to reviewers I grabbed my .50 caliber, heavy octagon-barreled traditional black powder rifle and headed for the truck.  My Toyota Tacoma Pre-Runner sits up high enough and has contours in all the wrong places that it took me a couple of minutes to find the sweet spot.  After that the Magnet Gun Caddy worked like a charm on both hard surface asphalt and on grass.
However, this is dv's Mostly Archery so you know I couldn't stop there.  The same problem that the Magnet Gun Caddy addresses for gun hunters also plagues bowhunters.  It is far too easy to step on a grounded bowstring, sight or bow-mounted quiver of arrows in early morning darkness.  I grabbed my Reflex Highlander and experimented with fitting the top limb into the Gun Caddy.  It worked, but required a lot more experimentation and I wasn't happy with the results.  That's no fault of the Gun Caddy, though.  It isn't what it was designed for.
Summary
Function:  ***** (4 stars)  The Magnet Gun Caddy worked for its intended purpose and is a good idea to prevent damage to guns and vehicles.  The instructions on the hand-out provided supplemental information and would be nice to have when purchasing the product.   
Value:  ***** (2 stars)  I think the street price of $9-11 is a little high.  I'd probably have to encounter catastrophic damage to one of my seldom used guns before I paid more than $4.50 for one. 
The Magnet Gun Caddy has received the North American Hunting Club Field Tested Seal of Approval.  For more information visit Magnet Gun Caddy.
Note:  For all Gear Reviews please refer to A Note About dv's Gear Reviews and Gear Provider Recommendations.
happy hunting, dv
Feedback, Questions & Comments
I'd like to hear your tips, feedback, comments or questions.  Please leave them below.  
Subscribe
Like this blog? Want to be notified of updates? Subscribe via RSS feed by clicking here.
Coming up on Mostly Archery
Bowfishing – Preparing the Boat
dv's 2009 Turkey Season Review