dustyvarmint woodworks Custom Turkey Calls
Free-hand, lathe-turned to meticulous specifications.
Finished inside and out with insect repellant and moisture resistant gun stock finish.
Integral finger groove improves grip when wearing gloves.
Wide variety of striking surfaces available including plain and pre-conditioned glass, plain and pre-conditioned crystal, slate and anodized aluminum.
Pots available in a wide variety of domestic and exotic woods with cherry and walnut the most popular.
Strikers available in a wide variety of domestic and exotic woods with hickory and poplar the most popular.
Each call comes with either a scrub pad or sandpaper for conditioning and basic use and care instructions.
Personalization available including logos (used only by permission), photos and sandblasting.
Simple guarantee; I look forward to your feedback. If you like the call, word of mouth advertising is appreciated. If you don't or the call breaks due to my workmanship, return it to me and I'll refund your purchase less shipping or fix the call.
Sample Photos
Cherry call with preconditioned glass (below).
Logo call with preconditioned glass (below, left).  Photo call (below, right).
Curly maple call with slate (below).
Cedar call with laser engraving (below).
Cocobolo strikers (below).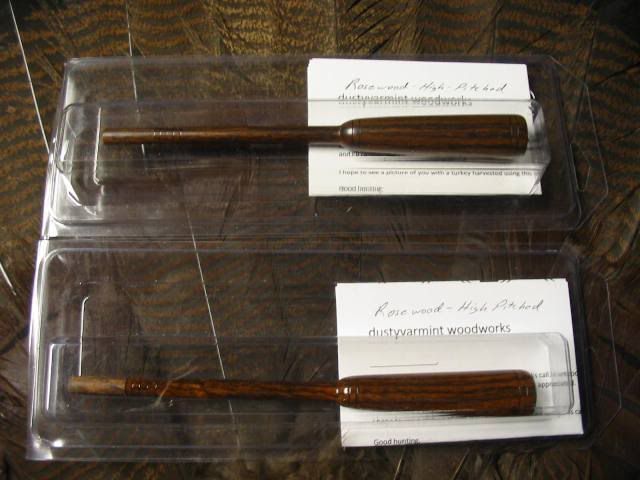 Conditioning Supplies
*Primos pre-2008 "Slick Stick" conditioning tools include diamond and stone surface conditioners, chalk, striker conditioning and surface conditioning pads. I surface a lot of calls and this is the "best": $7.00 plus $2 shipping.
Primos Slick Sticks (below).
2011 Prices
Cherry or walnut pot, any surface, and poplar or hickory striker: $34 plus $4.70 priority or $3.00 parcel post USPS shipping.
Personalization: Logos or photos add $5. Laser engraving add $2.
Premium woods; curly maple, other figured domestic woods, exotics, etc.: add $5.
Strikers; domestic and exotic woods: $8.00 plus $2 shipping.
Orders
All calls are custom made to order.
I accept money orders or Paypal.
Contact me at [email protected] for more information or to place an order.