Everyone should consider starting a hunting journal this fall.  A photo/story journal preserves memories for generations, makes a great conservation piece, and lets you relive great days afield as you flip through its pages.
For whatever reason, I began recording every deer hunting story in a hardbound, acid-free paper journal when I was 14.  Fortunately, I had only 2 years to catch up on because I killed my first deer when I was 12.  Now, I extended my journal into a second album just this year and have a story and picture to accompany every deer that I have ever shot.
When I was about 15, my hunting horizons started to broaden and so did my hunting journal.  Now I have pages recording great waterfowl shoots, shed hunting excursions, squirrel hunts, bowfishing trips, out-of-state hunting adventures, and even the occasional big buck that dad or another close friend put on the ground.
I also include the year in the bottom right corner of every page so that when I am 75 and can't remember if I was 18 or 28 when I killed XYZ buck, I can just look and know for certain.
Here is a smattering of pages that I photographed out of my hunting journal to give you ideas of how you can set-up various pages in your own archive.
Think of it as manly scrapbooking.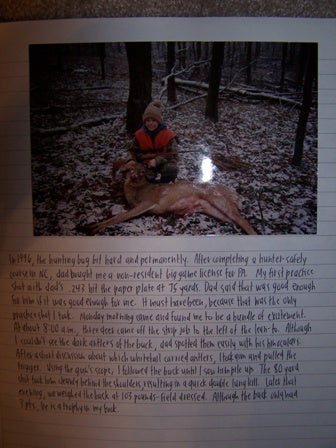 First page – first deer.
First archery kill.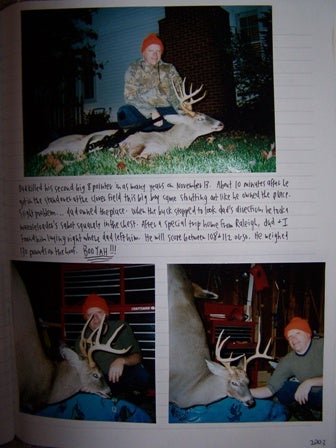 A big North Carolina muzzleloader buck for dad.
A couple different waterfowl hunts.
All bowfishing photos – no captions.
My NC buck from last season.
Those pages give you an idea of what you may or may not want to include in your own hunting journal.  One thing is for certain… once you start journaling your hunting adventures, you'll wonder why you haven't been doing so all along.