I left you with this image yesterday – a black bear descending from the uppermost meadow on the mountain. It's cliche, but…I couldn't believe my eyes! My first instinct was to start down the checklist of whether or not it was a decent sized bear. It was already obvious that there were no cubs with it as I watched it descend over 100 yards down to the same closed logging road that I was standing.
Big ears – nope, not really. Good sign!
Big gut – not really, but not a deal breaker – it is spring after all.
Big forearms – YES! This was the trait that caught my eye the most. No taper whatsoever and big muscular forelegs that oozed solid bear status.
My mind had concluded that I was indeed looking at a shooter bear, but my eyes still weren't quite convinced. At 150 yards, surely this bear should look bigger than this. I grabbed my rangefinder out of my pant's cargo pocket and zapped the descending bear just before it hit the logging road. 250 yards. Now everything made sense. It was a big bear. My mind and my eyes were now convinced.
I'm still not sure why I didn't just shoot the bear right away. 250 yards was by no means a stretching shot for my rifle or my abilities. However, I waited until the bear chose a direction to travel on the logging road before I made my next move. That next move was to shorten the distance every time it lowered its head and ambled away. 225 yards. 200 yards…175. I finally had the range down to 125 yards after a couple minutes of duck-walking. As I looked around for a stump to prop over, a relatively controlled situation turned chaotic.
The bear bolted uphill on a dead sprint with no warning. I'll never know exactly what happened, but my best guess is that the thermals were in a bit of an eddy current as both the bear and I were pushed towards the back of one of the creeks that vertically intersected the clearcut. Regardless, I hit the prone position immediately and tried to train my crosshairs on the running bear. I had most of the tension pushed out of the trigger at one point, but couldn't bring myself to take a running shot with so much open hillside still gaping above the escaping bear. I actually remember thinking something to the effect of "I hope this bear has some mule deer blood in him!" Thankfully he did.
At 223 yards, he stopped looking straight away as if contemplating his next move. That was the pause I needed to settle my breathing and push a Winchester Silvertip 130 grain bullet on its way. Ol' Betsy held up her end of the bargain and the bear never twitched. I took off at a dead sprint to mark the bear's location, but the hurry was needless. I had just taken my first black bear and I was BEYOND stoked!
This was the sight that greeted me as I crested into view of the bear.
Looking back to where I had taken my shot.
Honestly, I didn't even touch the bear at this point. I didn't even get within 10 yards of the bear. I just stood there for a while to make sure I didn't see any breathing before descending back to the logging road and evaluating the situation. Andrew had been watching the scene unfold through his binoculars and there was A LOT of work to be done. Since I wanted to share the excitement of the moment with him, I left some gear on the logging road to mark the spot and started the long hike back around to meet Andrew. We decided to return to camp and unload all non-necessities, grab the game bags, double-check camera batteries, and hike back to the bear's location.
I had taken my shot at 7:15 and it was about 9:35 by the time we returned to the bear for photographs, tagging, skinning, quartering, and packing.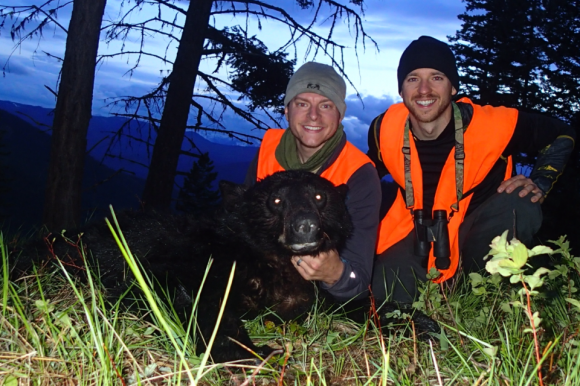 It took us somewhere around 2 hours to complete the picture-taking, skinning, and quartering chores with about a 30-minute hump back to camp with packs fully loaded down with hide, head, and meat. We found the bullet mushroomed and resting in his Adam's apple (if a bear had one). It had penetrated perfectly through one scapula, shattered the spine, and traveled downwards through all the vitals before coming to a stop. Teeth weren't overly worn, but I'd guess he was in the 5-6 year old range. Complete guess though as I'm no bear expert. We estimated weight between 170-190 pounds and measured his hide somewhere between 5'5″ and 5'8″. This is a squared measurement – nose to base of tail + front paw to front paw, divided by 2. Not a monster bruin, but surely a great first bear and perfect representative of what a Montana spring bear should look like.
Back at camp, we stretched the bear hide out on a long-fallen Ponderosa trunk, hung the game bags nearby to ensure full ventilation, and sat around the campfire soaking up the satisfaction of having punched one of our tags. What a fine night it was!
Before leaving camp the next morning, we draped the bear hide between our tents and took some photos before loading down heavy for the hike out.
A post-hike Google Earth investigation revealed the pack-out to be 3.97 miles long and about a 900′ descent. Mountain hunting advice #1 – kill up, pack down. Some pictures of the best variety of hard work.
With one bear under our belts, it was time to head for town, pop some Ibuprofen, and find a place to store our meat and hide for the remainder of the hunt. The halfway point had been reached and one tag had been punched. Only time would tell how the second half of our adventure would unfold. Needless to say, we had shaken the feelings of slipped confidence and were walking with a new sense of purpose and drive.
A Fred Bear quote seems fitting at this point in the story.
"A downed animal is most certainly the object of a hunting trip, but it becomes an anticlimax when compared to the many other pleasures of the hunt."