I made a post earlier in April regarding the winter conditions and potential impact on the Sitka black-tailed deer herd on Kodiak Island. It seems like the only thing I may have under-estimated was the kill's effect on older age class animals, does and bucks alike on the NW and middle portions of Kodiak Island. I have talked to a lot of people who live/work, guide/hunt, or both on Kodiak Island, and reports have been pretty consistent that winter kill was moderate to severe on the northern portion of the island, and negligible to moderate on the southern end of the island.
Here is an article that discusses how climate, deer, bears, and berries are all players in the dynamic winter system on Kodiak Island, really interesting information in here!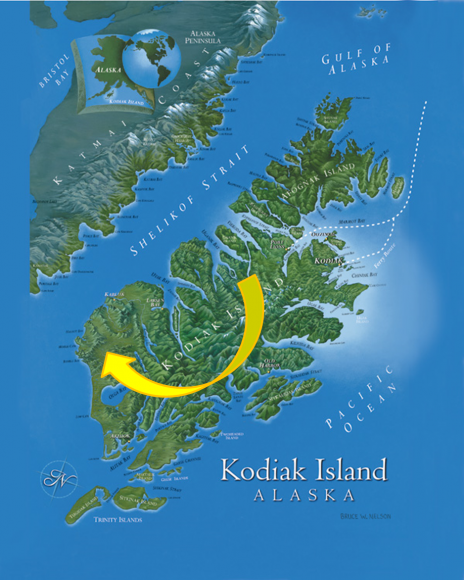 Armed with this knowledge, we've pulled the plug on our initial location choice, an inland alpine lake off Uganik Bay, to relocate further toward the southern end of Kodiak Island. Trading out some winter kill for a new location will present its own unique set of challenges, not the least of which is a higher-priced bush flight from Kodiak proper. We will also be trading alpine conditions that eliminate most of the inconvenience and frustration of dealing with pockets of chest tall vegetation and impenetrable alder thickets with guess what…pockets of chest tall vegetation and impenetrable alder thickets. We'll also be hunting at lower elevations which eliminates virtually any chance of lucking into a shaded residual snow back that would be invaluable for caring for an early season meat cache. The switch probably increases the probability of flying invertebrate combat too, though I have some new head nets and 100% DEET to fight that battle if necessary.
All trades we're willing to make though. Fawns are the first to go when going gets tough, then the mature bucks are next up for winter kill susceptibility. So many resources get poured into the rut that most bucks go into winter with less fat reserves than their female counterparts. Some A-grade reports from the south end lead me to believe that while a few adult deer may have succumbed to malnutrition and starvation this past winter, a hunt with solid numbers of mature animals is in our (very near–just over 2 months!!!) future.
Updated gear list posts coming next.