To continue from a much earlier and initial post on gear and equipment for dad and I's Kodiak Island adventure, there are some basic constraints that our planning must conform to.
For one, and most importantly, our airplane that transports us from Kodiak Island to the southern end of the island 80-miles distant has an 800 pound capacity. No if's, and's, or but's…safety is top priority. Plane weight does not factor into the flight out of town and into the bush, in fact, we are planning to load down the plane with firewood to cross one item of the "get camp set up" to-do-list when we touch down at our final destination. Even with 100 or so pounds of firewood, we'd still be able to accommodate a smaller NFLer with our spare weight. Coming back will be the tricky part. I'll detail the total weight and extensiveness of our gear list in future posts, but suffice it to say, the weight of 4 dead deer + dad + me + gear/equipment won't let us bring whatever firewood we didn't burn through back to town. I expect our flight back into Kodiak City will run upwards of 750-775 pounds if we tag out on Sitka bucks.
Secondarily, getting from Raleigh-Durham airport to Kodiak City with as few pieces of luggage as possible is a priority. With each of our first bags checked free, 2nd bags cost $25/apiece, and 1 rifle case, I'm hoping we don't dump more than $150 on baggage fees. Even stuffed to the gills, I've carried on my hunting pack in the past, so I'm thinking this is an achievable goal.

To run down a few more of my gear additions for Kodiak Island, I'll start with my pocket stove. Picked this up locally from Clintonville Outfitters in Columbus, OH, for less than $40. It weighs 3 ounces on my kitchen scale and is sturdily built and was highly recommended by the person staffing the store that day. In fact, she pushed this product over a couple more expensive options that sat on the shelf. Because one cannot legally fly commercial flights with stove fuel, we will stock up on 2 containers in Kodiak City before heading into the island's interior.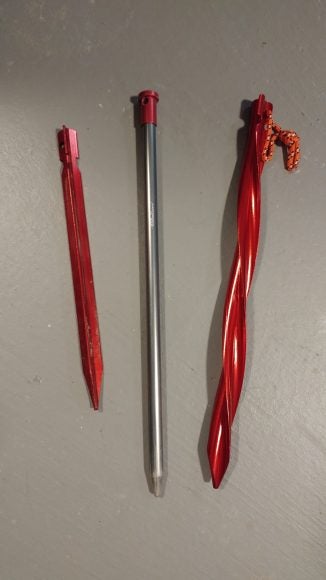 I've already mentioned my Seek Outside Redcliff shelter with TiGoat stove in an earlier post, and I am sure I will make a whole post reviewing that product post-Kodiak. For the time being though, I want to mention a small accessory purchase for the shelter system that might come in handy if we run into some of the inclement weather that Kodiak Island is famous for. Cyclone stakes from name-brand retailers can run upwards of $6/stake, but Amazon carries some knock-off 12" twisted stakes for much less. Reviews I've read say they are the best design for dealing with high wind and coping with soft ground. I still plan to set heavy rocks or logs on top of the corner stakes to provide additional insurance, but I will be supplementing the 12" plain Easton stakes with a half-dozen strategically placed Cyclones.
I am still running the same sleeping bag that I purchased back in 2012 for our first Colorado elk hunt, and I will be borrowing my buddy's identical bag for dad. After 5 years of using my 2/3 Peak A/C sleeping pad, I'm going to use a Klymit sleeping pad for this trip with the Peak A/C in reserve in case of leaks. For dad not having much prior ground sleeping experience, I made a Big Agnes luxury purchase. Depending on the comfort comparison test, I can foresee purchasing a similar pad for myself for future non-backpacking hunting adventures.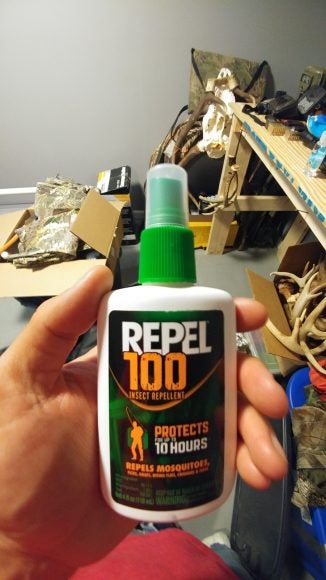 The bug populations of northern latitudes are a common theme. In order to cope with potential swarms (low wind speed days are the biggest fear with bugs, conditions not commonly found on Kodiak's windswept landscape), I picked up a couple Sea-to-Summit mesh head nets. Each weighs less than 1 ounce and has the micro-mesh which keeps out all the flying biting insects, even the no-see-um's. Not all head nets are created equally, so buy carefully if no-see-um's are known to be a problem in your area. To supplement our head nets, I also purchased a small bottle of 100% DEET. Now frankly, 100% DEET scares me a bit and I tell myself now that I will only use it liberally in case of a bugocalypse, but I imagine we will be spraying a bit whenever we're stationary for extended periods of time – glassing, quartering and skinning game, etc. Kind of like drinking Coke though (remember it can dissolve pennies!!), spraying 100% DEET on your skin seems foolish when so many other outdoor products have warnings to not spray DEET on surfaces because of corrosive properties.

To cover technological needs, I will be packing my normal compact point-and-shoot digital camera, my cell phone (obviously has a camera too) to serve as bullet drop compensator and GPS unit using the Avenza PDF app, maybe (??still undecided) my DSLR Nikon with extended lenses, and a Delorme Inreach unit to connect with the air transporter and check in with family. To charge all those devices, I keep a charge on all those devices I picked up a 10,000 mAh power pack that is capable of recharging my cell phone several times from dead to full. A really affordable unit on Amazon and weighs 8 ounces, it is about the size of 2 Hershey's chocolate bars stacked on top of each other. Switched on to airplane mode, being cognizant of keeping brightness to the lowest possible levels, and using the GPS sparingly (4-6x/day), I've nursed smartphones for 6+ days in the backcountry on a single charge. With dad's phone along as a worst-case scenario back-up plan, utilizing smart phones to the fullest extent possible renders traditional GPS units (and cameras too for that matter) obsolete.

Last, we will each be taking along a couple books each for those wet, dreary, foggy socked-in days at the tipi. I haven't chosen my second book yet, but my first is a lock – the Monarch of Deadman's Bay. An old hardback edition about a huge Kodiak brown bear on the southern end of Kodiak Island. Some might say the book is not the best choice for reading material, but I'd counter and say it is the absolute best choice. Backcountry sleep is only so good to begin with, and I've got to imagine that going to bed with Kodiak brown bears dancing in my head was going to happen regardless.