Our upcoming Kodiak Island do-it-yourself hunting adventure has taken my gear and equipment planning to a whole new level. Part of that is because I am planning for myself and dad, part of that is because of the weight restrictions of our bush flight, part of that is because we are NOT backpacking with a mobile camp, and part of that is simply because I have never planned for Alaska. That said, I am feeling great about the thoroughness of my list and the quality of the gear and equipment on my list. For DIY hunts like our archery Colorado hunts, I usually keep everything in a single list, but with a more permanent base camp I decided to construct a series of lists. Most items are only located on a single list, but a couple pull double duty and will jump from the "camp" list to the "daypack" list on a daily basis.
For this first comprehensive gear post, I'll cover what I will be wearing out hunting each day and carrying in my Kifaru Mountain Rambler. Dad's pack will be similar minus any needlessly duplicative items.
A fairly standard list of gear rounds out the "kill kit" except for the Tyvek sheet equipped with grommets and hatchet. I've become a fan of having Tyvek to debone meat for any major pack-outs, and a grommet in each corner allows a lightweight tent stake to keep my mobile workstation locked in place. I'm planning to use my hatchet to aid in severing each deer's ribcage from the spinal column. I am not taking any chances with Alaska's wanton waste laws, and a compact hatchet seems like the quickest and most effective to accomplish ribcage removal.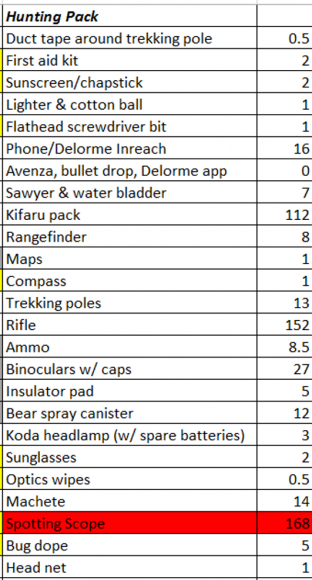 Of course, my "kill kit" is part of a much larger hunting pack set-up. I'll be taking my Kifaru pack; dad will have my old Badlands 2800. Again, a fairly straight forward list of equipment with a few exceptions. I am taking my folding windshield sunshade as a butt cushion for glassing, picking up bear spray canisters once we touch down in Kodiak City, and toting my Tramontina machete to aid in whacking our way through dense alder thickets. I've considered scrapping the hatchet from my list and hoping the machete will suffice for butchering, but I'm not sure it's got the weight to plow through bones when necessary. The spotting scope is in red simply because I'm not sure if we will decide to always take it on our daily hunts. That spotter with quality tripod is quite the load and makes sense if we are planning to camp out on a glassing knob or two for the day, but it's a slug to haul up those steep slopes. It's heavier than my scoped rifle for crying out loud!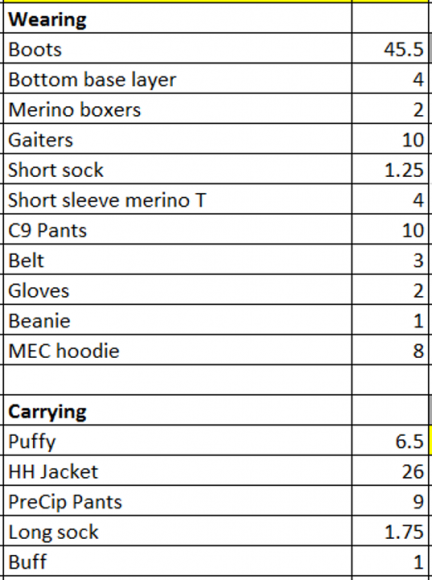 My early season Kodiak Island attire will closely resemble my normal backcountry September elk hunting get-up with the addition of some Alaskan-grade rain gear and my Outdoor Research gaiters. Worst case scenario, with the Helly Hansen rain jacket and my puffy, I could spend a fireless night on some god forsaken Kodiak mountain if absolutely necessary. No question something like that would be miserable, but with high grade gear and a somewhat level mind at least it wouldn't become a life threatening situation. Dad is equipped similarly.
My day pack including weapon and everything listed + 2 L water + 12-16 ounces of food will total 35 pounds. Add in my "wearing" weight of just over 5.5 pounds and a 60 pound load of Sitka black-tailed deer venison will push my burden to the 100 pound mark quickly. Thankfully, dad and I will be hunting as a pair and hopefully we will have the restraint to not needlessly put ourselves in a twofer situation. Being mindful to not needlessly duplicate items between our packs, we hope to keep dad's pack weight a bit lighter in the 22-23 pound range. Personally, I am surprised that it will weigh so much, but it's all the rain gear, a rifle instead of a bow, and the "worst case scenario" gear that add up so badly. No way will I be skimping though. Kodiak can kill you.
Next up, my spare clothes, spare supplies, camp toiletries, and convenience items. After that and lastly, our equipment for camp life, meat care, and sleep/shelter system on the Emerald Isle…Kodiak Island, Alaska.