So wrapping up my complete gear and equipment list, I'll lay out my basecamp equipment, sleep system, and shelter. In prior posts (Part I, Part II), numbers posted were in ounces and are my realized weight. By realized weight, I mean the weight in ounces that my kitchen scale is spitting out and with modified packaging, sometimes extra strapping is lopped off to cut grams, maybe I have ditched the packaging altogether, etc. One of the few luxury aspects of our upcoming Kodiak Island hunt is that we will be air-dropped into the lake where are shelter, sleep system, and camp essentials will stay in one place. Therefore, while I can post weights of different items if someone is curious, I haven't weighed these items as they won't be part of any grunt work while on the Emerald Isle.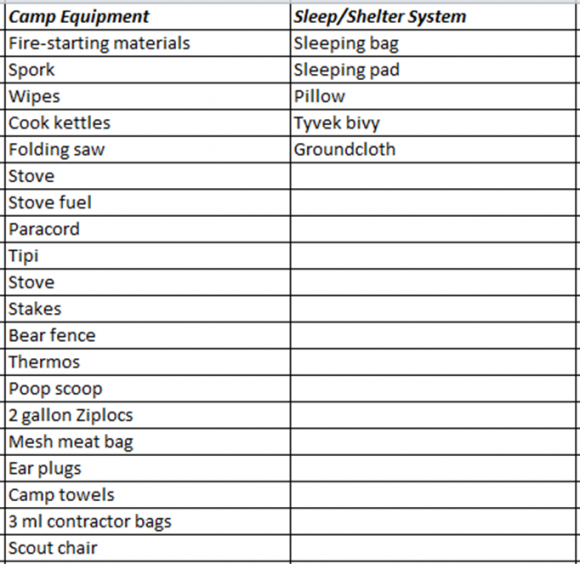 Our cook-kit will be bare bones—a spork and 700-ml kettle for each of us, a single pocket stove to share, two 8-ounce fuel canisters, 3 different methods to ignite a fire (waterproof matches, Bic lighters, Swedish firesteel), and a shared thermos to tote 16 ounces of hot coffee into the midday hours. That's it. I might grab an 8" aluminum skillet that we can use to cook up ptarmigan breasts or Dolly fillets or Sitka backstrap on the wood-stove, but I'm torn on that. I've had excellent grouse, whole fish, and venison grilled on a spit too, so a skillet might ultimately get left behind as an unnecessary extra. I will make another post detailing our food menu for the trip.
I think I already mentioned the luxury of carrying a full package of wet wipes along—boy, that will be nice! I've also got a lightweight molded poly shovel for keeping a clean "outhouse". It's only respectful of whoever uses your lake on the next fly-in. Micro-fiber camp towels are another great item to spot-dry optics, a quick facewash in the creek, or a full-body towel off after a polar plunge in a lake.
I won't detail our meat care strategy – only link you to this forum thread which details what our approach will be – but I will make sure to report back on how effective it is. We will be packing 2-gallon Ziploc freezer bags, a mesh sports ball bag, some 3-mL contractor bags, and I need to add a spray bottle of citric acid to the list. That's an item that I will pick up in Kodiak City after our flight comes in from Anchorage and before we jump on the floatplane with Seahawk Air.
Just a couple other items to mention. Always take double or triple the amount of paracord that you think you will need. Paracord is almost as versatile as duct tape and can be used to meet a diversity of needs and fix a myriad of problems. I've got 50-feet of small diameter Lawson's reflective cord and another 50 of the larger diameter more traditional type paracord. We'll also round out our hand implement assortment with a folding saw (also taking a machete and hatchet). I purchased a Bahco Laplander folding saw which is a highly durable and lightweight (6 ounces!) option that the backpacking forums spoke of highly. I am also throwing in a really cool folding camp chair that I picked up at a yard sale several years ago. It weighs right at about a pound and collapses very compactly and is rock-steady sturdy. I'm sure you will eventually see some pictures of it in my post-trip Kodiak reports. I had someone tell me it was an old Boy Scout style chair, but I'm unsure if that's accurate or not.
Not much has changed with my sleep system over the years, but I did throw in some ear plugs because dad is a confirmed snorer. Not horrible, but he snores sometimes and I don't want to hear it when he does. I'm sure I've snored at least once before, and I guarantee my wife would return the sentiments. I think our bear fence rental probably fits best into this paragraph on sleep system as well. I read one guy's forum post that said the best way to guarantee good sleep on Kodiak is a Tylenol PM, a whiskey nightcap, and an electrified bear fence.
I took the Redcliff on its maiden voyage last weekend to capitalize on the peak of the meteor showers . Not exactly rugged test conditions, but I have the utmost confidence from others' reviews that the Redcliff and TiGoat stove system will handle the worst of what Kodiak Island can dish out.