Mom had this ad torn out of a magazine and waiting on the counter when I walked in the door Sunday night, August 27th. True words. I had just driven in from Columbus, OH, and made the 7 hour drive down to central North Carolina where dad and I would depart from Raleigh-Durham airport the following day at 5 PM. With almost a full day Monday to get organized, the trip was off to a smooth start with open roads and all gear and equipment accounted for. Every checkbox had a check inside it and now it was just a matter of getting our big adventure to Kodiak Island, Alaska started. A truly great adventure it would be!!!
Raleigh-Durham to Seattle went off without a hitch. Sitting cross aisle from one another, we both lucked out and had an empty seat between our respective aisle seats and the window seats. Money on a 5+ hour flight. Seattle to Anchorage was a shorter flight and luck was again on our side with no one crowding our elbows in the seat next to us. The plan was to grab some sleep on this flight but the excitement of the trip did not allow that to happen. We played 3 or 4 games of cribbage instead and talked at length about all the anticipation and pent-up excitement of the adventure.
Landing in Anchorage shortly after midnight, we had a 6+ hour layover until the early flight out of Anchorage to Kodiak was scheduled to leave at 7 AM. With that, we found some empty benches and fashioned the most comfortable pillows we could muster and grabbed some fragmented and restless shut-eye. There was no sense worrying about the fact that the windy and foggy weather looked almost certainly to doom our morning flight, there was nothing we could do about it so why worry about it. Talking to some seasoned Kodiak residents in the airport, our concerns were validated and the general consensus was that Tuesday would be spent in the Anchorage airport until flying conditions improved on Wednesday. Oh well, that's Alaska.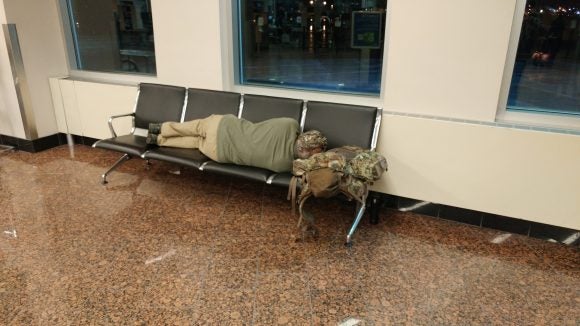 Somewhat miraculously the desk attendant made the announcement at 6 AM that the flight was still on cue although low cloud ceilings and a brewing storm in Kodiak could still derail us. Even miraculously, an hour later we were sitting on the plane and bound for Kodiak. I can't imagine the ceilings being lower on the runway and it was definitely windy but I guess that is par normal for aviation in the great state of Alaska. A smooth landing and quick taxi to Kodiak's teensie airport and we were on the Island at our designated and planned time!
Seahawk Air was there with a van shuttle to greet us and 3 pieces of baggage plus a gun case later and we were headed to town to run a few last minute errands.
We pit-stopped at Big Ray's outdoor store, the local True Value hardware store, and Wal-Mart (yikes groceries are expensive in Kodiak!) to grab our 7-day fishing licenses, a bit of terminal tackle suitable for tackling salmon or whatever other fish we were lucky enough to find hungry, a box of #4 steel 12 gauge loads for ptarmigan, a 5 gallon bucket with waterproof lid, some fresh fruit, coffee creamer, tortillas, and 2 boxes of split (and more importantly…dry!!!) firewood. From there we walked up to the Shelikof Lodge and enjoyed a really great pancake and eggs breakfast. While in there, we got to listen in on 2 mountain goat hunters harrowing experience from the night before. They had been weathered in on a road system hunt and attempted to escape the elements by fording a river. The attempt failed and left them soaked to their collarbones with no dry gear and nothing but a cold night filled with 35-45 mph wind. They almost died. Literally. Hypothermia nearly got the better of them and they were a stark reminder that Kodiak Island is not a place to get complacent. It is one of the most unforgiving places on earth and that is why it attracted me in lure of adventure. It was definitely a sobering caution for our next 10-12 days on the island.
The waitress brought the bill and we gave Seahawk Air a call that we were done and ready to head for the floatplane base. We were second in line behind a different group of goat hunters and our scheduled departure was for 2:30 which left us 2+ hours to get organized a bit, top off charges on our electronic devices, and make last contacts with our loved ones.
I stared quite a bit at this old map in Seahawk's office hardly believing that we were just a couple hours from stepping out into Kodiak's wild interior on the adventure of a lifetime. Saying it was surreal would be a huge understatement but I do not know of any other way to describe it.
Rolan eventually arrived and our gear was waiting down on the docks to be loaded. Goodbyes were texted and telephoned, gear was loaded, gas tanks topped off, and we were taxiing out into the strait where we'd be leaving civilization for a destination as yet unknown but still strangely familiar after as much research as I had invested. From the time we took off to the time we landed, the landscape seemed vaguely recognizable and I was able to retrieve the names of lakes and bays and mountains from my mind even before Rolan would come in over the headset and give us information about whatever it was we were flying over at the moment. Quite the frankly, the experience and spectacle of the floatplane ride alone was worth the price of admission for the entire trip. It was simply over-the-top in terms of stunning beauty and all the interesting features we were able to see. Schools of ocean jellyfish that levitated like giant beluga whales, one of the world's largest salmon canneries, a salmon-choked river loaded with more Kodiak brown bears than we could keep track of, rocky mountain peaks, and squishy flat tundra valleys filled with beaver dams. I had no idea that river deltas at low tide were such grand pieces of natural artwork either. The contrast of the surrounding greens with the grays and blues of water penetrated by emergent sandbars and sediment outflows. Unreal.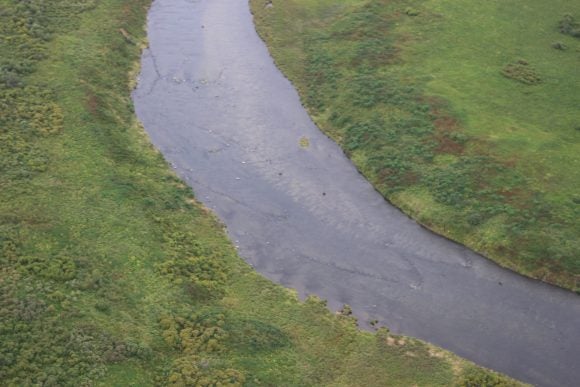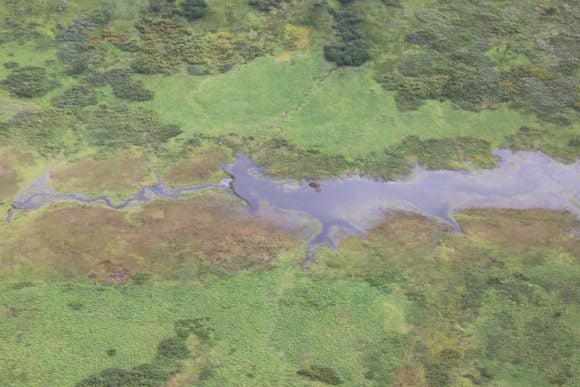 As we circled the valley where we would call home the next 8 or 9 days, I began taking pictures in rapid fire succession of the surrounding mountainsides, hanging basins, and long winding valleys. Having a bird's eye view of what vegetation types were where would turn out to be invaluable knowledge that we would lean on in coming days. After a quick 360 of our lake, Rolan set the old De Havilland down on our lake and cruised downwind to the end of the lake where we would unload our gear, wave goodbye to our pilot, and begin erecting our campsite.
Deep breath time. We're in the heart of Kodiak.