No unsettling moments occurred throughout the night and we both woke up rested just before daylight. Unfortunately, a quick peek through the tent fly and it was obvious that the Kodiak weather was going to be a factor. The cloud ceiling appeared impenetrable and started a whopping 200 or 300 feet up from the valley floor. Based on where all the deer were from the night before, this would be a problem. Content to wait out the low clouds, we fixed a couple kettles of coffee, made some oatmeal (3 packets of strawberry and cream oatmeal supplemented with extra freeze-dried strawberries…yum!), and putted around camp until around 9 AM when the dense clouds finally started to break up.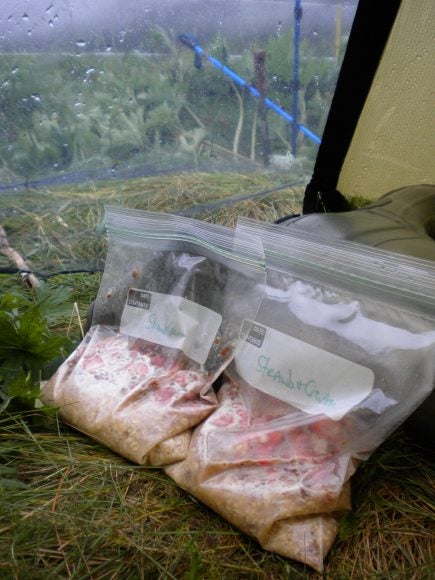 Exiting through the "gate" in our bear fence, we headed out across the head of the lake and pointed ourselves towards the far slope. The plan was to bushwhack up through the brush and exit into a network of great looking alpine bowls and ridge lines. From there, we would have the remainder of the day at our disposal and hopes were high, as long as the weather behaved that is.
Within an hour's hike of camp and just before the hike started to become more vertical, we located a great buck. Unfortunately, our naivety and inexperience of judging Sitka black-tailed deer probably got the better of us and we made a rather hasty decision to pass. In hindsight, it was a great buck and one we should have seriously contemplated making a play on. Not only was he a great buck, he was close to camp!! Oh well, lessons learned and, as it turned out, we would encounter this buck again on another day.
As we passed from the valley on to the slope of the mountain, we got our first sustained taste of what everyone had warned me about regarding hunting Kodiak Island in the early season. "Words can't describe how thick the vegetation is." "Avoid a 1 acre alder thicket even if you have to go a half-mile around." "Get ready to suffer." All I can say is that they were right and alder thickets suck. You ain't lived until you have used a machete to hack your way through alder thickets chocked with salmonberry with only devil's club to hang on to for 3 straight hours on a 30 degree slope that is extra slippery because everything is wet all the while getting pelted by rain from the sky above and wondering if a brown bear is going to jump out and eat you from behind the next dip in topography. Brutal. Quite possibly my own personal version of hell on earth.
Despite the struggle of the climb through the alder/salmonberry/devil's club combination, dad wore a smile of accomplishment as he lay eyes on the beautiful country that I promised him really did exist somewhere past the "next" alder thicket. I had multiple conversations with dad leading up to the hunt where I painted brutally honest pictures of how miserable Kodiak Island can be at times — all in an attempt to calibrate his and my expectations with regards to the trying circumstances that we would likely deal with on a regular basis. From first day to last, and his smile after this first bear of a hike (pun intended) attested to it, dad exuded a tremendously positive attitude through everything that Kodiak Island threw at us.
Once on top, we started seeing deer in just about every pocket we looked. A doe and 2 fawns there, 2 small bucks up there, 2 more does down below near the creek, a small bachelor herd way up on top of the mountain, so on and so forth. The 4 or 5 hours were filled with short hikes, intermittent glassing sessions interrupted by rain, fog, or both at the same time, and a steady procession of bucks through the spotting scope. Whenever the clouds dropped, we would wait it out and pass the time by replenishing some calories, reading our maps to plan the next move, or picking salmonberries from the shrubbery around us.
In a couple heavier downpours, we broke out the DIY Tyvek rain shelter that I built leading up to the hunt. It uses 2 trekking poles, some paracord, and a couple tent stakes to pitch. It worked great and is something I'll be including in my pack for future hunts. It just as easily becomes a meat processing station.
Eventually, the small network of basins played out and we had not found a buck to pique our interests, so we transitioned to hiking out along a ridge which had pockets of open ground among the alder thickets down slope, but which also gave an excellent overlook to the valley beyond which was filled with deer. Literally, anywhere you looked, there was deer. Who knows how many deer were in that valley, but we counted 35 or 40 easily in the next 2 hours – all does, fawns, and small bucks though. We pressed on, holding our elevation on the ridge above, while keeping our eyes turned to the terrain and valley floor below.
Finally, we slid out and around one alder thicket and stumbled right into 2 bucks bedded just slightly below us in elevation and totally clueless to the fact that we were anywhere in the vicinity. The width of the closer buck immediately grabbed our attention, but it was a long debate whether or not he was a buck we were interested in taking this early in the hunt. After all we were a long ways from camp and the buck we had passed first thing earlier that morning was looming larger as a buck we should have pursued when the opportunity presented itself. Because we had snuck in so quietly under cover of the wet ground and yucky weather, we had the luxury of setting up the spotter and really studying this buck hard. His antlers were that beautiful color I had always envisioned Kodiak bucks to have, and the shot would be by all accounts a relatively easy one. But we still had not seen a Sitka black-tailed deer on the ground and we really did not know what "just beyond his ears" meant…13″ inside spread or 15″ inside spread. The issue of assessing scale was really throwing us for a loop.
Much longer debate summarized in short, after 45 minutes of studying the buck and taking cover a couple different times as rain showers blew in and out. I decided that I would attempt to fill our very first tag of the trip. I won't over-dramatize the actual moment of taking the shot, because quite frankly the initial excitement of "there's a buck!" had long since dissipated. After we agreed I would take the shot, I set the spotter up in a solid position, checked the chamber to make sure a cartridge was in position, took a bead, gave dad the warning, and took the shot. He folded at the rifle's report and I told dad to hold his position until I climbed down the hill to locate him in the high ferns and grass.
Seldom the phenomenon of "ground expansion" occur, but it definitely did in this instance, and the whole experience of being up close to a Sitka black-tailed deer put a lot of things into perspective – not the least of which was the actual size of the buck we had passed earlier that morning! Of course we did not have a scale along on the trip, but I would estimate the average weight of an early season Sitka buck on Kodiak's south end to be in the 175-200 pound range with ease. They are in ridiculously good condition and have fat layers in excess.
The antlers, as with the body size, were disproportionately larger than we had expected. The inside spread was one-eighth inch shy of 16 inches even and the mass was considerably heavier than we were estimating. All this added up to my very first ever Sitka buck measuring 85″ – 10 whole inches above the Pope & Young minimum (not that I'm saying this was a bowkill because obviously it was not, but stated only for perspective's sake). Dad and I took some time to admire the buck, take a whole bunch of photographs, and be intentional about soaking up this major moment in our Kodiak Island adventure. The old adage that "once the trigger is pulled, the work begins" is true though, and we found that out in true Kodiak fashion on this night.
Dad kept an eye to the sky for the next pulse of nasty weather and was on full alert for any cruising Kodiak brown bears, bear spray and loaded firearm in hand. From slightly upslope to command a slightly better vantage, he watched as I put my Havalon to work butchering, even using my machete to detach both rib cages per Alaskan wanton waste requirements. Before long, all quarters were out of the rain lying under the doubled up sheet of Tyvek and into game bags they went. Partitioning all the gear and equipment into dad's pack, I shuffled both full meat bags and the skull of the buck on to my Kifaru and we started back up the hill to re-locate the game trail we had been using to cruise the ridge line hours earlier. This was a chore and it probably did not help that our worst pack-out of the whole trip would prove to be our first of the trip.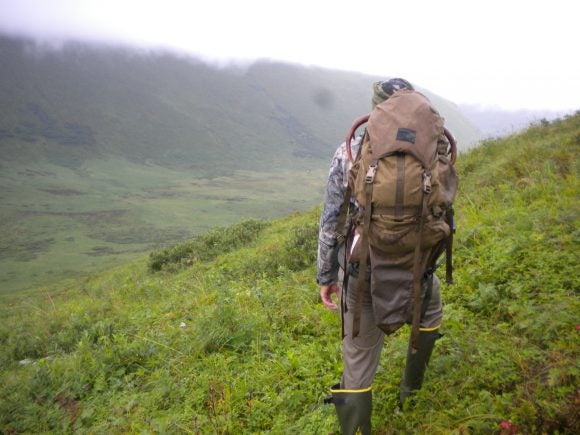 The push back to camp lasted nearly 4 hours and definitely qualified as a character builder. In the words of my elk hunting buddy, I guess "it remembers fun." Type 2 fun for sure. The worst part was that we took a new route back to camp that I was a little uncertain of as afternoon turned to dusk and then into night. That said, I am certain that it was still a better option than retracing our bushwhacking nightmare from 8 or 9 hours earlier in the day. All in all, our route off the mountain was a much longer path and added upwards of a mile to the journey but my plan worked out in the end, and our final descent was free and clear of the alders and salmonberry that had plagued us so badly before on the initial ascent. See the last picture on this post for the yellow route we approximated in our descent.
Just after 11 PM, we shrugged our packs off our aching shoulders and hips, unloaded meat from the Kifaru and into the meat shelter, shared a water bladder to parch our thirst, scarfed down an apple, and crashed in our sleeping bags within seconds of our heads hitting the pillows.
Only because it is interesting to look at in retrospect, here is a rough plot of our day's course up the mountain and back down. The total measured distance was only 4 and a quarter miles but does not include all the ducking and weaving, zigging and zagging that probably puts that number more in the 5 and a half or 6 mile range. Regardless, this and the elevation profile graphic helps to put Kodiak Island's south end in perspective for those curious. Oh, and the downward turned red arrow on the 3D landscape is where we took my buck at the back end our day's loop.