Sorry about keeping you waiting. Been busy at work and there has been some beautiful October-early November weather to take advantage of as well. I suppose you could say I have been out creating more content, or at least attempting to!
Back to our Kodiak adventure.
We were up extra early the next morning. No doubt we were well rested after having spent 3 consecutive days tipi-bound. Because of the number of bucks we had seen from camp roughly 36 hours prior, we hoped a more lengthy break in the weather would bring out the bucks again. With coffee in hand, we set up the spotter and started searching the surrounding mountains. From just behind camp to approximately a mile and a half distant, the rising sun was making it easy to pick out the deer from the dense green vegetation. Over the past couple days, we decided not to be too picky with finding a second buck for Dad. The venison was just too tasty to let a tag go unfilled, so another 50-60 pounds of meat was the real priority.
After about an hour of glassing and looking over 15 or 20 different deer, we found a buck over and around the head of the lake that was pretty accessible and would be a short pack back to camp if successful. We got ready to start hiking and barely had the gate to the bear fence unclipped when Dad said "Bears!". Right in line with our path of planned travel to the buck, 3 bears popped out of one alder thicket and disappeared into the next. For roughly 10 minutes, we kept an intent eye out, occasionally catching glimpses of the chocolate-coated bears as they meandered through the thick brush. We were hoping that we would see them continue south to clear the way for safe hiking, but that did not happen. We were pretty sure they holed up in an alder thicket just across the lake, only a quarter-mile distant. That buck and the plan to go get him got tossed out REAL quick.
Back into the bear fence we went to turn our attention back to the mountains. We needed to find another buck, but this time in a safer direction!
Thankfully, another half-hour revealed 2 bucks on the slope behind camp. One buck was decent-sized and positioned about halfway up the 2,000′ slope. The other buck was a size class or two larger, but he was also near the top of the slope. A serious pull from camp that looked rather intimidating. Still, the larger buck was a sort of back-up plan, and we struck off to see if we could close the distance on the buck at lower elevation and fill our last Sitka black-tailed deer tag on Kodiak Island.
Within 30 minutes, we were peeking up over a break in terrain hoping the buck was still up and feeding and not buried in the thick cover of the impenetrable alders. No such luck. We stayed there for 20 minutes picking apart the waist vegetation, hoping to maybe get lucky and see a set of antlers sticking up. No dice. It was obvious the buck had finished his morning meal and had holed up tucked away and safe in one of the many alder patches.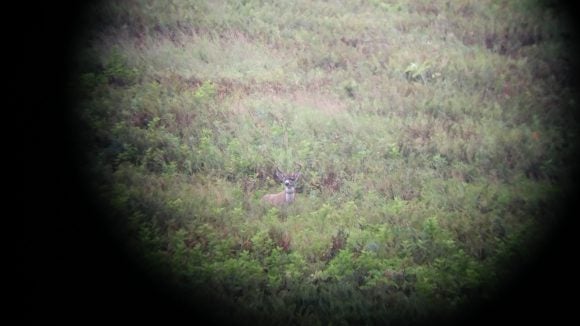 To the back-up plan. It took us a few minutes to re-locate the buck high on the mountain, but we did without too much trouble and found him still up and feeding. Knowing he would not stay on his feet forever, we made haste to cut the elevation that separated us from him. My biggest concern at that point was that Dad and I's pace would not be adequate to get within shooting position before the morning's thermals switched and pulled our scent directly uphill to the buck's location. Every break to re-coop oxygen was another opportunity to update the yardage between us and our buck. Gradually, we worked to within 400 yards and decided that was about as close as we could get. The terrain features would hide the buck from our view and the shooting angle was already getting extremely steep. Time to set up and try to make the shot.
We got Dad into position, took a good range and then several more just to confirm, wound the turrets on his .270, and squeezed a few practice triggers. Show time. After 2 minutes, the buck gave Dad a great broadside look.
And bedded down. Before Dad could squeeze off a shot. I am not sure I have mentioned a key fact to this point. Our floatplane was scheduled to pick us up at 3 PM that very day and the time was 10:45. The buck's bedding down threw a major wrench in our plans. We did not think it would take us long to get the buck back to camp if we were successful – it was all downhill. But, we did not have the luxury of waiting 3 or 4 hours for him to get back up and grab a midday snack. We decided to get creative. Dad placed his crosshairs right through the wickets of the buck's antlers and waited for him to stand up as I made some loud noises to get him back standing. The next 30-45 minutes were comically frustrating to say the least. I whooped, hollered, yodeled, screamed, shouted, laughed, banged metal trekking poles together, hooted like an owl, and made every other loud noise I could think of. Either the buck could not hear us, he knew the game we were trying to play, or he just did not care – he would NOT stand up.
Finally, after about an hour, the buck stood up and stretched.
Boom!
Boom!
I was tracking each shot through the spotting scope and called out a "hit" each time. Dad was settling in for a 3rd round when the buck just disappeared back into the tall vegetation! We were tagged out. Dad had just made his longest shots to date. We agreed that I should stay in place and keep the spotting scope trained on where the buck had gone down. Dad would pick his way up the steep, slippery slope and locate him. Then I would climb up the mountain, we would take some quick photos, speed through the quartering process and hump back to camp as quickly as possible. We had a plane to catch!
It took Dad quite a while to put all that elevation behind him but the buck was lying exactly where we thought he would be. I scooted up quickly thereafter and we conducted our last Sitka black-tailed deer photo shoot of our adventure. It was a great buck with an enormous body. We could not have been more thrilled having set out to find a meat buck, we had taken yet another older age class Sitka buck.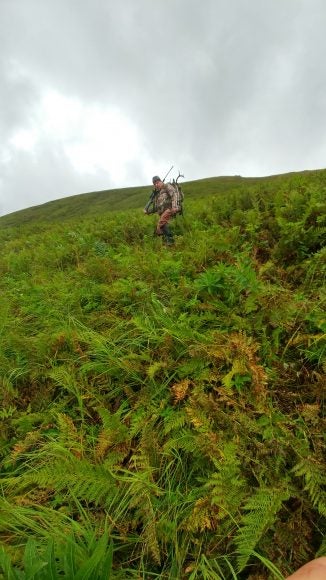 We made record time to get back to camp and started consolidating our gear and equipment into different bags and packs. We decided to leave the tipi standing and the bear fence up until the floatplane arrived, but our haste to leave the mountain gave us about 30 minutes of free time to sample the fishing in our lake.
The small sockeye run had mostly played out but I managed to land a small colorful male and Dad had a few swipes at his lure without hooking up.
When our 30 minutes of free time turned into an hour of fishing, we decided we had better check our InReach unit just to make sure everything was still on schedule. Darn, delayed. Weather had socked our pilot in at the seaplane base in Kodiak and we made arrangements to stay at least one more night in the Seek Outside Redcliff. This had me worried for a couple reasons. First, I sort of figured Mr. Red Fox would be back again that night. Second, we had added 50 or 60 more pounds of fresh meat to already large meat cache and we had definitely not forgotten that our day started by seeing 3 bears coming close to camp and disappearing into a nearby alder thicket. Third, I was stretching my ability to keep meat from our first couple bucks at this point, and the thought of "one more day" turning into a "few more days" was weighing on my mind. Not like we had a choice in the matter though.
We spent the rest of the day digging out the bare minimum in terms of gear and equipment to sleep one last night and fried up one more batch of tenderloin for dinner. After a couple games of Cribbage, we turned in early and hoped the floatplane could fly in the morning.