As we had suspected, our last night's sleep within Kodiak's interior was a bit restless and sleepless. Around 11 PM, we both awoke to the sound of 2 bears squalling, balling, roaring and carrying on just around the head of the lake. They made quite the racket for a minute or two before the eerie silence settled back in around us. Whether they were fighting over the last of the sockeye salmon that had beached themselves at the head of the spawning run or if they had stumbled on to the carcass of our second buck from days earlier, it was unclear.
Then around 3 AM, Mr. Fox returned to camp. He chewed all the way through a blue tarp and had started working on dragging off a game bag full of venison when one of us startled awake. Of course, the first thought that crosses one's mind while on Kodiak is not…fox…it's BEAR! Pandemonium promptly ensued, but unzipping the tipi's fly and shining our lights out, shotgun and pepper spray at the ready, revealed a less terrifying visitor. I ended up chasing him around for a few minutes before slicing off a few more scraps to lure him down to the lake's edge. He did not return again that night and I apologize to whomever hunts that lake next for the pet fox that we tolerated, even encouraged.
Finally, the dawn broke and it wasn't long until we could hear the drone of a float plane swinging to the southwest in order to fly up the valley and touch down on our lake. We hustled to stuff our sleeping bags in dry bags, deflate our sleeping pads, and tossed together the other remnants of our gear. The plane touched down and I started lugging gear to the lake shore while dad broke down the bear fence. The tipi came down in 3 or 4 minutes tops and a final sweep of the area was made. The pontoons were loaded down with venison, our wet stinking gear piled high behind the cockpit, and all the evidence that remained of our adventure was a matted down circle of grass about 40 feet in diameter.
We took a few obligatory pictures posing with our bucks atop the plane's pontoons, piled into the plane, and taxied down the lake for takeoff. I could not help but notice how worn down the pedals were on the De Havilland. This plane had seen some serious hours in the air!
Whew, what an adventure!! The plane ride back was just as spectacular as our first flight out 9 days earlier. We saw numerous bears crowded around the salmon streams (probably north of 30 again), bald eagles, a large herd of over 40 mountain goats, and even a fellow pilot perched several hundred feet above us with the sunlight glinting off his propeller as he passed overhead.
Back in Kodiak 2 hours later, we made a few phone calls to loved ones, touched base with the local hotel, and confirmed an early morning fishing trip for the next day. Showers and restaurant-served meals were followed by a lengthy nap, and then we transformed our room into a butcher shop. From 7 PM until 3 AM, we cut and trimmed meat. Shuttling meat bags from the hotel's freezer space upstairs and returning sealed freezer bags of steaks, roasts, burger trimmings, and other cuts back down to be frozen. Somewhere along the way we ran several loads of laundry, and made the rest of the phone calls that needed to be made.
At 3:30 AM, I fell asleep exhausted in the hotel room bed, dad having fallen asleep just 15 or 20 minutes before. At 6:00 AM the morning though, our alarms waited to ring us back awake and we had a 7:30 dockside appointment to make with Kodiak Island Charters. The lack of sleep was well worth it and within 10 minutes of leaving port, we had dropped 2 lines in the water as our boat captain trolled around some ocean buoys hoping to intersect some hungry salmon. It did not take long and we were hooked up. And hooked up again. And again. And again. The bite eventually slowed but not before one of the rods bent double as a halibut nailed a trolled spoon. It took a bit of work to bring him alongside the stern and a well-placed harpoon and timely gaff brought about a ~70 pound doormat of a halibut.
From there, we ran about 40 minutes to a strait that separates Kodiak from a nearby neighboring island. Once there, we dropped anchor in about 160 feet of water and dropped 8 ounce sinkers armed with 10/0 circle hooks to the bottom. It was long before we were pumping halibut, cod, and a host of other bottom-dwelling fish up from the ocean's bottom. We stayed there for about 3 hours and almost filled our limits of halibut, adding nearly 10 cod and several black sea bass to the ice box as well.
By mid-afternoon, we were back trolling to round our limits of salmon. We caught nearly an even split of king salmon versus silver salmon and headed back to the docks after 5 with ice boxes crammed to capacity. 23 salmon, 9 halibut and about a dozen other fish to boot. What a day! Even if we had gone fishless, the scenery and wildlife that we encountered out on the ocean was surreal. Puffins, sea otters, seabirds galore, perched bald eagles, stunning landscapes, breaching humpbacks, and exceptional company. Dad and I were both essentially at a loss of words by this point in the trip. Everything we had dreamed the trip could be, it was that much and so much more. Our fishing experience was just the cherry on top of what had already been a world class adventure.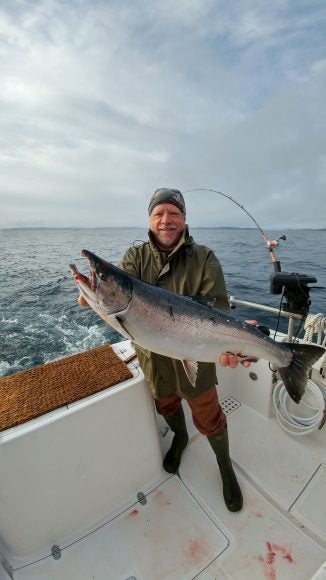 We made contact with the local fish processors and made arrangements to pick up our filleted catch in the morning at 11:30 AM. Our plane was scheduled to depart Kodiak's airport at 3:00 PM.