PRESS RELEASE
For Immediate Release
.
BOGART, GA. – One of QDMA's most popular educational posters has been updated – the White-tailed Deer Density poster, first produced in 1999, has been redrawn using new data from the most recent estimates. The 28×40-inch poster features a map with estimated deer densities across the entire range of white-tailed deer in the United States, with information down to the county level. The map was produced in cooperation with every state wildlife agency.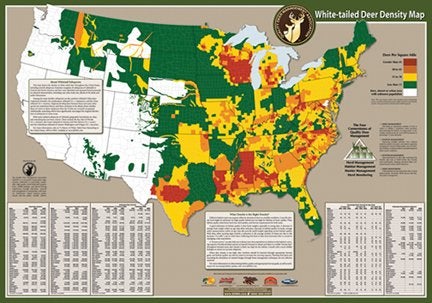 Compared to the 1999 poster, QDMA's new map shows that deer densities have decreased in some areas and increased in others. For hunters who wonder whether their local deer density is too high, or whether local habitats can support more deer, the poster outlines the population factors and habitat indicators that should be considered. QDMA's poster not only illustrates the areas with highest and lowest deer densities, it also provides a view of the extent of the whitetail's range in the United States. This includes the expanding frontiers of the range in western states and geographically isolated populations, such as the Columbian whitetail of Oregon and Washington. The poster also includes charts showing state-by-state deer population estimates, harvest statistics and hunter numbers.
The 28×40-inch, film-coated poster makes an interesting display for a hunt camp, cabin, office, or hunter-education setting. Posters are available for $9.95 plus S/H or buy all five of QDMA's educational posters – including B&C/P&Y Distribution, Estimating Buck Age, Identifying Antlerless Deer, and Jawbone Removal & Aging – for $39.95, a savings of $9.80. Call (800) 209-3337 or visit www.QDMA.com to order.
About QDMA
Founded in 1988, QDMA is a national nonprofit wildlife conservation organization with more than 50,000 members in all 50 states and Canada, and several foreign countries. Membership in QDMA is open to anyone interested in better deer and better deer hunting, and committed to ethical hunting, sound deer management and the preservation of the deer-hunting heritage. To learn more about QDMA and why it is the future of deer hunting, call (800) 209-3337 or visit www.QDMA.com.
Posted By
John Stabley
STABLEY OUTDOORS
www.skinnymoose.com/stabley
www.stableyoutdoors.com
[email protected]
618-387-1694