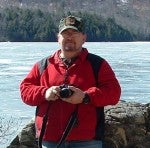 Brent Reece is a dedicated outdoorsman and selfless promoter of outdoor activities. Located in the scenic town of Madison Maine.
Over the previous 53 years of his life, Brent has traveled and hunted or fished all over Maine. He has also worked in the construction industry, was a manager in retail and in the IT field in recent years. His broad based knowledge of the world we live in and in the hunting and fishing world as a whole gives him a unique perspective on all things Maine.
But here in the last few years he has focused on his writing career. More specifically as a seasoned blogger and freelance writer for Outdoor Hub. He has also been published on Completefisher.com and Fishingtalks .com as well. As a member of POMA, the Professional Outdoor Media Association, he is also working as a content provider.
Brent Reece offers a vast love of Maine and it's endless outdoor opportunities. It is in this way, he endeavors to watch over the resources and ecology of the entire state of Maine. Informing his readers of all news and reports that effect outdoors families across the country.
Brent Reece enthusiastically reaches out to those who share his love of the outdoors and encourages their greater involvement through clubs and organizations, giving a voice to the faceless masses that hunt in Maine. But he never hesitates to get personally involved. It is his intention to challenge each of you as anglers to do better and give more, to all that you love. In this way we can all build a stronger longer-lived heritage and know it will live on beyond us all.
As "Aroostookbasser" on the Maine
Now here in this Blog you have the chance to discuss all manner of topics with him at your pace. He will share and enlighten you on all subjects relevant to the Northwoods.
To contact Brent Reece you can post a comment here, or email: [email protected]