Los Angeles Skunk Removal
Los Angeles Skunk Removal LA County California
SOCAL Wildlife Removal  is based out of Santa Clarita California  and marketed by ANYTIME WILDLIFE as (855)-699-4535 Extension #790
Professional Wildlife Removal Service Locations in California
Rosamond CA – Lancaster CA – Palmdale CA – Quartzhill CA- Pearblossum CA – Acton CA – Castaic CA- Fillmore CA – Santa  Paula CA- Ventura Ca- Simi Valley CA – Thousand Oaks CA – Malibu CA – Santa Monica Ca – Oxnard CA – Somis CA – Arroyo Sequit CA – Pasadena CA – Sun Valley California-Beverly Hills CA-Hollywood Ca-Bel-Aire CA – Sherman Oaks CA.
Hey Los Angeles  !!
We are LA's experts in odorless skunk removal and in skunk smell and skunk odor removal. 
We like skunks, we love skunks and we remove skunks. Every Spring we go skunk crazy for skunks here in Los Angeles . Feel free to call us for our skunk odor recipe, and how to best remove skunk smells from a "dog skunk" . We know how to get rid of  your skunks in your lawn, skunk under a house , skunk in a car, skunk under a car, and even an occasional skunk in the garage problem.
LA Skunk Trappers
Why deal with skunk odor when you can hire us to get rid of those skunk smells. We know how to trap skunks, catch skunks, capture skunks and get any skunk problem of yours in Greater Los Angeles under control.
For more about LA Skunk Removal Near Los Angeles California
visit http://www. trapperrobb.com/usatrappers/la–skunk–removal
What Kind of Skunks Live Near Los Angeles California?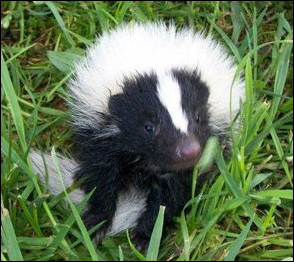 The most common species of skunk found near Los Angeles is without question the Striped Skunk . The Striped Skunk gets all around Metro LA and we find him and/or her in many places like underneath momma's laundry shed out back or the skunk den is within a skunk spray shot of momma's laundry lines in the yard. Then many folks have dogs and they let their dog out to investigate a noise or rumbling in the yard and presto, whamo you have a skunked doggie and want to find someone to take the dog skunked dog away and clean him. Click here for our skunk odor remedy for skunk smells.
Two specie types of skunk are found right here near Los Angeles California, the striped skunk (Mephitis mephitis), and the spotted skunk (Spilogale gracilis). Both of these skunks are members of the weasel family and are equipped with a powerful and protective scent gland that can shoot a potent and very  pungent yellowish liquid as far as 6 to as much as 10 feet. The secretion is acrid enough to cause nausea and can produce severe burning and temporary blindness if it strikes the eyes. (Eye Protection around skunks is always recommended) .
LEGAL STATUS OF SKUNKS IN CALIFORNIA
The California Fish and Game Code classifies skunks as nongame mammals. Nongame mammals that are injuring or threatening property may be taken by the owner or tenant of the premises at any time and in any legal manner. Fish and Game regulations prohibit the relocation of skunks and other wildlife without written permission of the Department of Fish and Game. The prevalence of rabies in the skunk population is one of several major reasons for denying relocation. For further information on the legal status of skunks, contact the California Department of Fish and Game.

We remove nuisance wildlife in Los Angeles California with a delicate hand. Often using the animals natural movements against them, we are much more than trappers, we are wildlife professionals. Although we do trap urban wildlife from time to time, we use the most humane and effective methods.
Wildlife in Los Angeles can cause illness in humans, cause flea infestations, physical damage to property, and become an immediate threat to the safety of you or your family. Skunks, raccoons, and coyotes are just a few species we typically work with on an every day basis. But we also handle bird control issues, stray cat colonies, squirrel control, and rat infestations.We rescue orphaned wildlife, and find qualified facilitators to rehabilitate and finish raising the animal. We get calls all the time from people with baby raccoons living in the attic, and they cause quite a racket at night. Most clients in such a case haven't had much sleep in the past few days, and have a tired look about them. Our methods normally show resolution within 24 hours. Raccoons are mainly nocturnal animals, so humans and animals have conflicting schedules.
Mole and pocket gopher control in Los Angeles is a Gift from God to any landscaper or gardener. Without proper control of these burrowing pests, a lawn or garden can be completely destroyed on weeks. Our men and women in the area can eliminate the animals doing the damage. We will do it quickly and discretely.
Our Los Angeles Office also repairs damages caused to your home by wildlife. This can be anything from patching a hole made by an animal in the roof, or removing and replacing the contaminated insulation in the attic after the animal issue itself has been resolved. Our representatives in Los Angeles have an intensive background in construction and home repair. We can even make the smell of a skunk go away so your neighbors wont be offended, and you wont even know it was there.
So if you have a need for skunk control and wildlife control in Los Angeles, look no further, All City Animal Trapping is there for you, and there is no job too big or small.
We service the following cities in Los Angeles County:
Agoura Hills, Alhambra, Arcadia, Artesia, Avalon, Azusa,Baldwin Park, Bell, Bell Gardens, Bellflower, Beverly Hills, Bradbury, Brentwood, Burbank, Calabasas, Carson, Cerritos, Claremont, Commerce, Compton, Covina, Cudahy, Culver City, Diamond Bar,Downey, Duarte, El Monte, El Segundo, Gardena, Glendale, Glendora, Hawaiian Gardens, Hawthorne, Hermosa Beach, Hidden Hills, Huntington Park, Industry, Inglewood, Irwindale, La Canada Flintridge, La Mirada, La Puente, La Verne, Lakewood, Lancaster, Lawndale, Lomita, Long Beach, Los Angeles, Lynwood, Malibu, Manhattan Beach, Maywood, Monrovia, Montebello, Monterey Park, Norwalk, Palmdale, Palos Verdes Estates, Paramount, Pasadena, Pico Rivera, Pomona, Rancho Palos Verdes, Redondo Beach, Rolling Hills, Rolling Hills Estates, Rosemead, San Dimas, San Fernando, San Gabriel, San Marino, Santa Clarita, Santa FE Springs, Santa Monica, Sierra Madre, Signal Hill, South El Monte, South Gate, South Pasadena, Temple City, Thousand Oaks, Torrance, Vernon, Walnut, West Covina, West Hollywood, Westlake Village, Whittier
Odorless skunk removal.
Hire us to get rid of those skunk smells.
We know how to trap skunks, catch and  capture skunks. Call for quote.
Los Angeles County Wildlife Trapping
Raccoon, Skunk, Squirrel, Snake, Rodent Trapper & Exterminator Removal Services
We are the only name you need to call for nuisance wildlife problems in Southern California. We beat all competitors prices and have 20 years experience in the nuisance wildlife control industry. We service all of San Diego County, Orange County,San Bernardino County and Los Angeles County.
Los Angeles Skunk Removal LA County California 
24-Hour Service ::Any Animal, Bird or Wildlife, Anytime
http://losangeles-bat-bird-skunk-raccoon-removal-control.com/
Related articles by Zemanta